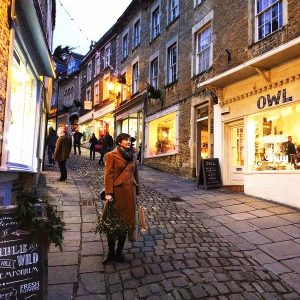 Frome is an amazing shopping destination. It takes great pride in the creativity and diversity of its many independent shops. The town has always stood as a successful commerce and market town, and despite the decline of the silk trade it continues to thrive. This is due to the success of its dedicated entrepreneurs and skilled craftsmen and artists.
There are some well-known national chains here, however the best way to visit Frome is by wandering along its medieval shopping streets and browsing the many unique stores. Here you will find clothing, jewellery, arts, home décor, books and stationary, antique and vintage goods. And while you're shopping, don't forget to stop by for food and drink at our independent cafes and restaurants. You can also see our many different markets.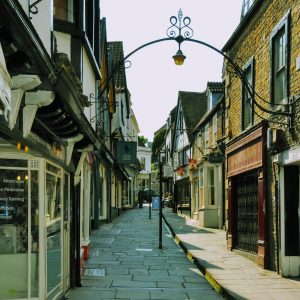 Frome's pride and joy. The leat carries the stream from the spring beneath St. John's Church. Children love to drop things into it – and sometimes themselves! Walk up between the old shops with their hanging upper stories. Here you will find books, clothing, records, bags and other leather goods, housewares, specialty food, bread and cakes and some excellent places to eat or have a coffee.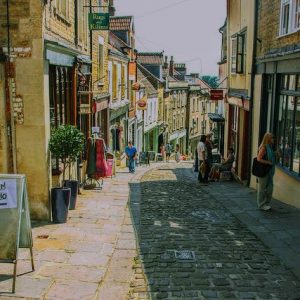 Traditionally referred to as Frome's Artisan Quarter, St Catherine's consists of Catherine Hill, Palmer Street, Paul Street, Stony Street and the lower part of Catherine Street. This is one of the historic areas of Frome, composed of cobbled streets which used to be the main road into Frome. Now you will find classic gifts, stylish clothes and accessories, ceramics, haberdashery, classy burlesque dresses, vintage clothes, florists, ironmongery and some great cafes and restaurants.
King Street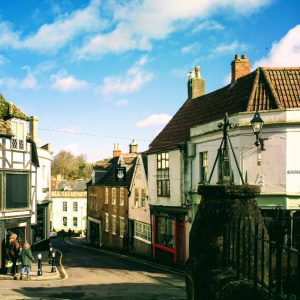 On the junction of King Street and the Market Place lies The Archangel. It is a medieval inn transformed into a boutique hotel, bar and restaurant. From there, King Street loops around to meet Cheap Street. On the way you will be diverted by independent shops selling fashion, fabrics, modern designer household goods, pet and aquatic supplies, The Three Swans pub and M & S Simply Food.
Westway
Across the bridge from the Cattle Market Car Park is the Westway precinct. Long established local businesses based here sell toys, stationery, art and homewares. The Co-op supermarket sells dairy products from their own local farm and has an independent butcher. You will also find other national retailers at this location.