Johnny Szymanski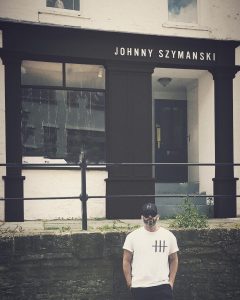 Johnny Szymanski is a British based menswear brand started by Johnny in 2020. Johnny's designs are for contemporary men who not only care about the way they look, but also about where their clothes come from.
Johnny is passionate about supporting both British manufacturing and also the continued effort to produce sustainable clothes that move away from the 'fast fashion' model and are made to last.
The Johnny Szymanski collection is proudly British made, as is the organic jersey it is made from. Even the labels are made here in the UK.
As well as supporting British manufacturing, Johnny ensures that the environment is also front of mind, from product to packaging, and is constantly researching new and more environmentally friendly alternatives to bring into all parts of the brand.
Johnny Szymanski
6 Palmer Street, Frome, BA11 1DS