Fussels Fine Foods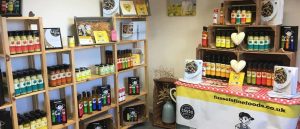 Established in 2005 Fussels Fine Food Company believe in the joys and benefits of high quality simple food ingredients, the positive benefits of sustainable farming, and in helping people to connect with them, which is why they created their single cold pressed extra virgin rapeseed oil.
This product is a real alternative to olive oil and it comes from right here in Somerset! It has 10 x the essential fatty acid Omega 3 versus olive oil, a terrific balance of Omegas 3 and 6, half the saturated fat of olive oil, it's high in monounsaturated fats and is an excellent source of vitamin E.
Fussels also make a fantastic range of dressings, mayonnaises, flavoured oils, sauce, vinaigrettes and gift boxes.
Fussels Fine Foods
Fussels Fine Foods Ltd, Church Farm, Parkgate Lane, Rode, Somerset, BA11 6AA