Chik Chak Falafel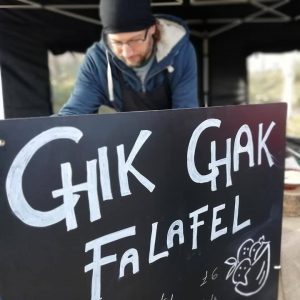 Order via Facebook or email: chikchakfalafel@gmail.com
Freshly made hummus that comes with a choice of three flavours:
* wild garlic
* grilled aubergine and smoked paprika
* roasted beetroot
We also have some pita bread. It will be nice and warm so you can dip it in your hummus right away.
The hummus comes in tubs of two sizes regular (220ml) £3.50 and large (340ml) £4.50
The pitas are 50p each or 3 for £1
We deliver on Saturday 12pm-2pm.
Message your order by Friday evening.
Traditional falafel balls made from organic chickpeas and a combination of herbs and spices. Freshly fried to give a crispy texture on the outside and a moist center. Served with home made hummus and a chilli sauce, as well as three freshly cut salads.