The Natural Health Clinic Frome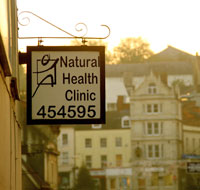 Based in the heart of Frome the well established Natural Health Clinic greets visitors and valued clients with a warm welcome and friendly smile.
Their team of professional and experienced practitioners offer a full range of complementary and therapeutic treatments. They offer help to all ages, whether it's stress, muscular/skeletal strains, sprains and injuries. They can also help with common complaints and most health and medical problems.
The Natural Health Clinic Frome
15 North Parade Frome Somerset BA11 1AU