Plan Your Visit
Welcome to Frome
If you're staying in Frome for a short stay or longer visit we would like to warmly welcome you to the town and offer some resources that may be of use. You can also pop into our information centre in Black Swan Arts, where our friendly volunteers can help plan your stay, or browse our website to find lots of information and things to do.
Plan your stay in Frome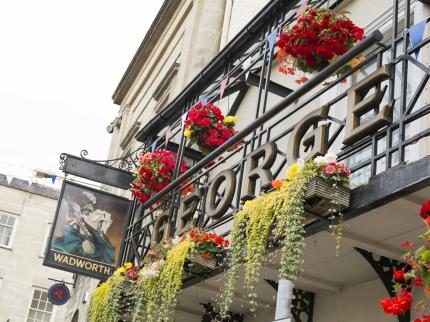 Our transport page will help you get to Frome and navigate around town, with information about trains, buses, parking, electric car charging points and e-car and e-bike hire. Use the accommodation page to find places to stay in the area, including B&Bs, camping, hotels and self-catered accommodation.
Make sure you get a copy of our Discover Frome map – now available to buy from Amazon. You can also find maps in and around the town in our new map dispensers and our Information Point in the Black Swan Arts.
This highly detailed and beautifully illustrated map highlights various shopping locations, places to eat, music and arts venues as well as open spaces and parks to explore. The map also details Frome's streets, churches, schools, sports facilities and train station.
Alternatively, you can look through our interactive map.
Discover Frome Information Point
If you can't find all the information you need on our website, be sure to stop by our information point, providing you with valuable local knowledge. Leaflets are available for a wide selection of local attractions in Frome and the surrounding area. There is a focus on arts and events as well as walking and cycling in the area.
Opening hours: 10:00-16:00 Tuesdays-Saturdays and market Sundays
Find us at the Black Swan Arts, 2 Bridge Street, Frome, Somerset BA11 1BB
If you are looking for information, you can also contact us at 01373 465757 or by email at info@frometowncouncil.gov.uk
What's On?
Useful Information
If you would like details of Local Services such as banks, post offices, doctors and pharmacies, please find information in the link above.
Recycling and Sharing
Frome is home to the UK's first Share Shop, where you can borrow items such as tools, games, cooking utensils and camping equipment for just a small donation for a week's hire. They also offer regular repair sessions, skill swaps and events.
SHARE also houses Frome's Happy Nappy Library, where you can borrow fabric nappies for a range of ages. Perfect to try before you buy, and avoid
throwing away almost 4000 nappies which take 500 years to degrade!