Studio Ashay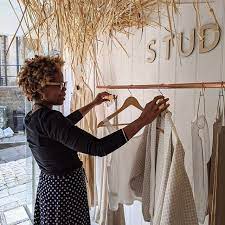 Studio Ashay is a working fashion and textiles design studio and store founded by Donna May Lynch. Based in Frome, on the famous cobbled streets of Catherine Hill.
All their clothes are designed and hand-crafted in the store and open plan studio. Inspired by different cultures and modern day living, Donna has based her collections on the past, the present and the repetition of nature.
Like a true fashion atelier, she creates an informal ready to wear collection, focusing on traditional pattern cutting and bespoke tailoring techniques.  As part of her concept and working studio, you will find most of her pieces left raw-edged and unfinished as a point of call to fit garments to her customers' liking.
Most of the collection pieces can be refitted and altered to suit your needs and the collections work against the thought of seasonal fast fashion, instead creating clothes that work in all seasons and often repeating cuts in different textiles.
Alongside the collection you will find a carefully selected group of up-and-coming passionate designers and artists that complement the ethos of Studio Ashay. They are passionate about making and creating sublime creations including jewellery, potters and interior designers.
Studio Ashay
28 Catherine Hill, Frome, BA11 1BY