Glass by Wendy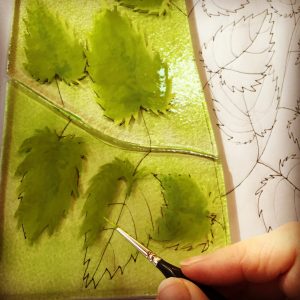 Wendy Wood creates hand-painted glass pieces that express some of the beauty found in the natural world.
Every piece is individually tinted, fired and hand-painted, which means that each one is a unique piece of glass art, even though it may only be a tiny suncatcher. Everything starts out as a large, flat sheet of clear glass and is then taken through a range of processes, including: cutting, drilling, grinding, tinting, hand-painting and several firings along the way.
Wendy works in a tiny garden studio in Frome, experimenting with glass powder and paint to create pieces which express her love of nature.  Much of her inspiration comes directly from the Somerset and Wiltshire countryside, where she walks her dog and the seascapes represent her dreams of one day living near the coast.
She works mainly with painted and fused glass, but also loves combining these methods with traditional leading to make larger, bespoke pieces.
You keep up to date with Wendy's work via Facebook and Instagram.