Frome Festival
Friday 6th July to Sunday 15th July 2018
After a year of planning and to celebrate the 200th anniversary of Mary Shelley's "Frankenstein", the Frome Festival will feature a monster line-up. The Festival runs from Friday 6th July until Sunday 15th and features top acts from every art form, as well as walks, talks, workshops, and exhibitions.
See what's on during Frome Festival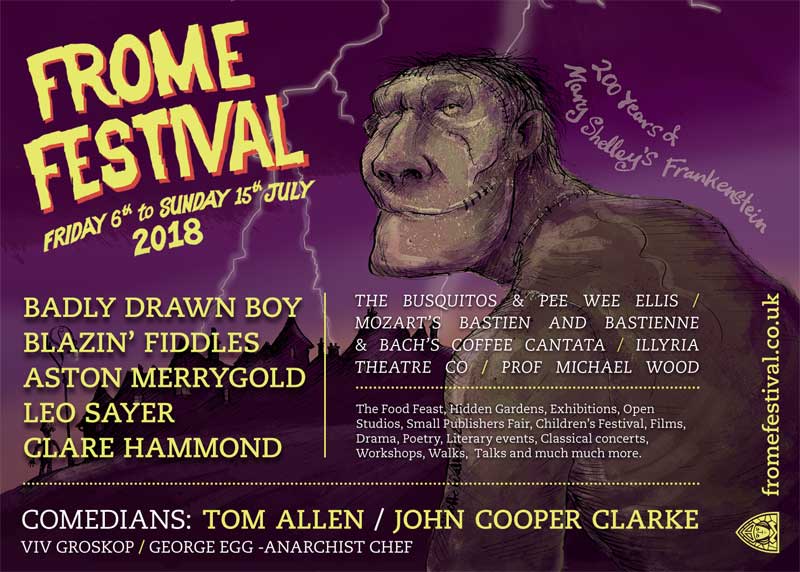 Well-known names scheduled to appear include singer-songwriter Badly Drawn Boy; Celtic folk rockers Blazin' Fiddles; front man from JLS, Aston Merrygold, and punk poet Dr. John Cooper Clarke. A special Festival Encore event on July 20th will also feature the legendary Leo Sayer. All the above will be appearing at the Cheese and Grain.
The Memorial Theatre will be hosting the up and coming comedian, Tom Allen, increasingly well-known through his many TV appearances, on Tuesday 10th July. Two popular acts on the UK comedy circuit wil play at the Merlin Theatre: George Egg " DIY Chef" is bringing his comical culinary delights to Frome (all the way from his garden shed) on Thursday 12th July, whilst on Saturday 14th, there is a welcome return for comedian, writer and broadcaster Viv Groskop in her new show "Vivalicious".
Amongst the musical highlights at Rook Lane Arts will be perennial favourites "Praying for the Rain"; and following last year's rave reviews, the brilliant Busquitos, an internationally renowned jazz band from Holland. This year, by special request, they will feature guest star Pee Wee Ellis, master of the Soul saxophone and one of Frome's most celebrated residents.
The programme is again packed with great literary giants: Writer and broadcaster Michael Wood, following his sell-out Rook Lane appearance in 2016, will be enthralling his audience in a talk on his latest project "The Trojan Wars – Myth and History." The Frankenstein anniversary is celebrated at the Merlin Theatre on Tuesday 10th with a talk by biographer Tony Dalton on the "Frankenstein Films of Director Terence Fisher", followed by a showing of his Hammer Horror classic "Frankenstein Must be Destroyed". Frome Cricket Club will host Grahame Lloyd, discussing his book "The Six Sixes Revisited" recalling the great Garfield Sobers achievement and the controversy that followed. There will also be a poetry walk around Mells, final resting place of Siegfried Sassoon, incorporating reading of his verse on Saurday 14th July.
Rodney Branigan, Reg Meuross, and Vadi World Music, will be performing at the iconic Silk Mill, and the pop-up Festival tapas bar will be run by the fabulous High Pavement team, on the terrace.
In all, over two hundred events will take place in the Frome Festival, many of which are free or with minimal entry costs, including the annual Food Feast in the Market Yard Car Park on Saturday 7th which usually draws up to 4,000 visitors.
More information on the festival can be found on their website.