Frome Festival
Friday 3rd July to Sunday 12th July 2020
The 2020 Frome Festival will celebrate the Festival's 20th Anniversary. Watch this space for more details.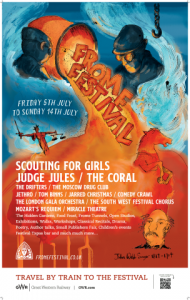 The 2019 Frome Festival joined in the celebration of the 200th Anniversary of JW Singer and the foundry that dominated the Frome skyline for many years, casting some of the world's most famous statues.
You can still catch some of the Casting the World events and exhibitions.
More information on the festival can be found on their website.