Transport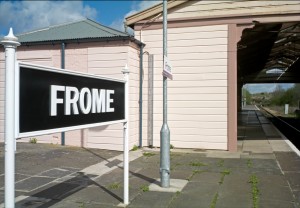 Last updated 16th July 2020.
There are lots of ways of getting to Frome, as well as around town. Here you'll find transport information on trains, buses, parking and electric car and bike hire.
Frome is striving to be a sustainable town, and transport is no exception, so be sure to take advantage of our public transport and our E-bikes, hybrid cars and electric car charging points. In town, many places are also within easy walking distance. Be sure to look through our maps to find where to go, or visit our plan your stay page to find helpful information for your visit to Frome.
Trains
Please check the GWR website for up to date information on services.
Frome Train Station, located on Portway, provides local people with trains to destinations including London Paddington, Weymouth, Bath and Bristol. You can plan your journey on the GWR website or Trainline. Timetables are also available at the Town Hall and the Discover Frome Information Point.
Buses
There are several bus services running through Frome and creating public transport links to and from nearby towns. To find routes and timetables, follow the links below. Some timetables are also available at the Town Hall and the Discover Frome Information Point.
COVID-19 update:
First Bus and Faresaver are operating reduced services and have suspended others. You can find more information on First's news pages and the Faresaver website.
Frome Bus have reduced their number 30 service and will be updating their website and Twitter feed with changes as they happen. We'd advise checking their website before you travel.
The Frome and Villages Bus Users Group blog site is also keeping up to date with changes where you can find updates on Libra services.
Government guidelines now state that from the 15th June all passengers must wear a face covering when using public transport.
Bus operators are also asking that passengers try to do the following to help keep yourself, fellow passengers and drivers safe:
Take a window seat
Avoid standing and leave a space in front and behind you
Wait for passengers to get off before you board
Do not stand or queue in the aisle next to the bus driver
Try to travel during off peak hours to avoid busy hours
Keep windows open to help with ventilation
Be prepared to wait if your bus is showing full even if it appears to have space
Use contactless payment where possible. If you need to use cash pay with exact change
Maintain a distance of 2 metres whilst waiting at bus stops
Please keep in mind that ALL operators will have less capacity due to social distancing rules.
Market Place closure – the Market Place will be closed to through traffic from 22nd June to 25th September 2020. During this time First Bus, Frome Bus and Libra bus services will instead be picking up and dropping off on Cork Street, near the cinema. The Faresaver service will be terminating at Fromefield.
D2 (First) – BATH TO FROME – via Clink and Critchill Road, Beckington, Norton St Philip and Hinton Charterhouse
On Frome Independent market days the bus will stop at Cork Street car park.
This service is operating an altered timetable. Check here for the latest timetable.
During the Market Place improvements, inbound D2 buses will stop on Cork street. Buses towards Bath will not serve Cork street, for punctuality reasons. Customers travelling from Frome market place towards Bath are welcome to board the bus as it travels towards Critchill or can alternatively board the bus at Gorhedge. The bus will drop passengers off at the Corner house stop that need to access the town. Older bus users can cross over and pick the 30 or 53 to complete their journey to town.
X34 (Faresaver) – CHIPPENHAM TO FROME – via Melksham and Trowbridge
Operating full service; currently dropping off in Rodden road by the hospital and picking up at the stop opposite the co-op, due to Market Place closure
X67 (Faresaver) – FROME TO BATH – via Beckington, Norton St Philip, Hinton Charterhouse
This service has been discontinued.
184 (Libra) – FROME TO MIDSOMER NORTON – via Mells, Highbury and Stratton on the Fosse
Operating as normal.
67/234 (Frome Bus) – FROME TO TROWBRIDGE – via Beckington
30 (Frome Bus) – FROME TOWN SERVICE – serving Keyford, Market Place and Berkley Road
Half-hourly Monday-Friday, Saturday service running as normal.
31A/31B (Frome Bus) – FROME TOWN SERVICE – serving Packsaddle, Stonebridge, Market Place, Lower Innox and Whatcombe. These services replace Frome Local Service 412.
47/X47 (Frome Bus) – FROME TO WESTBURY TO TROWBRIDGE – via Chapmanslade and Dilton Marsh. This service replaces the 58/X58 bus
53/X53 (Frome Bus) – FROME TO WARMINSTER – via Frome Asda, Corsley and Picket Post (for Longleat)
X53 service is currently suspended.
81/X81 – GILLINGHAM TO TROWBRIDGE – via Mere, Zeals, Maiden Bradley, Horningsham, Frome and Westbury. Thursdays only.
162 (Frome Bus) – FROME TO SHEPTON MALLET – via Nunney, Whatley, Chantry, Leigh on Mendip, Stoke St Michael, Cranmore and Doulting
414/424 (Frome Bus) – FROME TO MIDSOMER NORTON – via Buckland Dinham, Faulkland, Writhlington, Kilmersdon and Radstock
The 0700 (424) Frome – Midsomer Norton and 0720 (414) Midsomer Norton – Frome services are currently suspended.
X69 (Frome Bus) – FROME TO BRADFORD-ON-AVON TO MELKSHAM – via Oldford, Beckington, Rode, Holt and Broughton Gifford
Operating normal service.

National Express Coaches to London & beyond
National Express run a Frome to London (via Heathrow) service leaving the Market Place at 6.05am Monday-Friday and 6.25am Saturday and Sunday; returning from London Victoria at 7pm Monday-Sunday (arriving back to Frome at 10.35pm). Fares vary, but advance bookings can cost as little as £5 each way.
Contact them on 08717 818181 or visit their website.
You can buy tickets at Frome Town Hall.

Berrys Coaches – Superfast coaches to London
Contact 01823 331356 or visit their website.
Tickets are also available from our Information Centre point in Frome Town Hall.
Co-wheels Club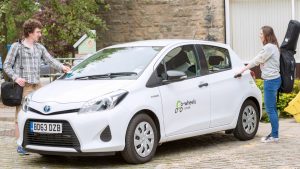 Frome's car sharing club Co-wheels is expanding its presence in the town with a second car and residents have the chance to sign up as members for just £1!
Car sharing is the cheaper and more environment friendly alternative to owning a car. Working with Frome Town Council, Co-wheels will now have two low emission cars in Frome – one outside the Town Hall and another at the Cheese and Grain car park. These are available on-street 24/7 for members to use – once you have signed up just book online or via the smartphone app when you need the car and you only pay for the hours you use plus a small mileage charge.
If you want to find out more and take up the special discounted offer check out the Co-wheels website at www.co-wheels.org.uk/frome . The offer gives you the chance to save money straight away – membership is only £1 instead of the usual £25 and you get £25 of driving credit added to your account to help pay for your first hires. Prices start at £5.50 an hour for the Toyota Yaris petrol-electric hybrid cars, plus 18p a mile, but that includes all fuel, insurance and other costs.
Electric Charging Points
Frome has several electric car charging points throughout town which are available to use. The following are all 32amp 7kW Type 2 Mennekes sockets:
2 charging points at the Cheese and Grain (right hand side, far end)
1 charging point at the Town Hall (rear car park)
1 charging point at the Football Club (on the prefab building right hand side in main entrance)
There is also a 16amp Type 2 Mennekes socket located at the Frome Medical Centre car park (far end of the first half of the carpark in front of the medical centre).
For those travelling out of Frome, you can find more charging points via the Open Charge Map.
Parking
If you are driving into Frome, there is parking in town at:
Cattle Market Car Park
Bridge Street, Frome, BA11 1BE (By the Cheese and Grain)
Open 24hrs. Charging times 9:00 – 18:00 Mondays to Saturdays. Max Stay 24 hours
339 spaces available. 21 designated disabled spaces
Cork Street Car Park
Cork Street, Frome, BA11 3JB
Open 24hrs. Charging times 9:00 – 18:00 Mondays to Saturdays. Max Stay 2 hours
65 spaces available. 5 designated disabled spaces
North Parade Car Park
Frome BA11 2AB
Open 24hrs. Charging times 9:00 – 18:00 Mondays to Saturdays. Max Stay 24 hours
33 spaces available. 1 designated disabled space
Badcox Car Park
Nunney Road, Frome, BA11 3BG
Open 24hrs. Charging times 9:00 – 18:00 Mondays to Saturdays. Max Stay 2 hours
22 spaces available. 3 designated disabled spaces
South Parade Car Park
South Parade, Frome, BA11 1EJ
Open 24hrs. Charging times 9:00 – 16:30 Mondays to Saturdays. Permit holders only outside charging times
33 spaces available. 1 designated disabled space
Vicarage Street Car Park
Vicarage Street, Frome, BA11 1PU
Open 24hrs. Charging times 9:00 – 18:00 Mondays to Saturdays. Max Stay 2 hours
17 spaces available. 1 designated disabled space
EBikes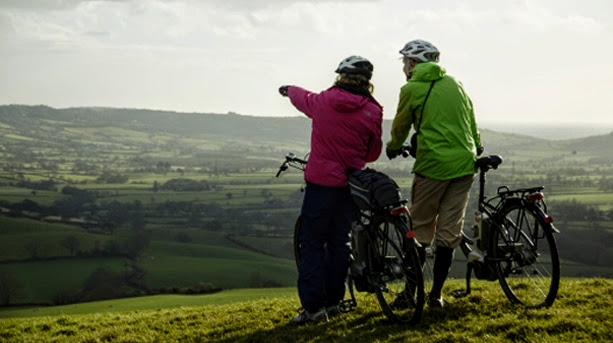 Cycling is certainly one of the best ways to get around, both in Frome and in the surrounding Somerset countryside. You can do everything from a challenging trail to a wander around Frome or villages in the area, while getting a bit of exercise in. And although the surrounding hills can be a bit of a challenge, Frome now has a local hire scheme for electric bicycles, which can help out on the tough bits. Find out more about hiring ebikes.