Refill in Frome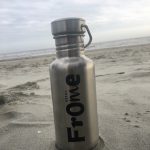 If you're looking to top up your reusable water bottle, there are plenty of businesses and community spaces in and around Frome that will accommodate you.
You can download the free Refill app here, take a look at our map or browse the gallery below.
If you don't have a reusable bottle, there are plenty for sale in shops all over town, including our very own Refill Frome bottles available to buy at Frome Town Hall and the Discover Frome Information Point.
Some of the businesses signed up are also part of our You're Welcome scheme which in addition to water refill, includes community toilets and Walkers are Welcome.