Gould's Cheddar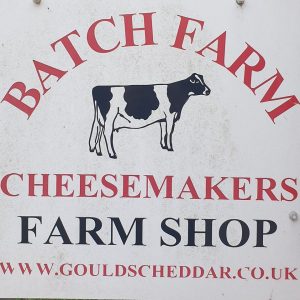 Online shop – order by 1pm for next day delivery (Monday-Thursday).
Farm shop is still open everyday from 9am-4pm, selling traditional farmhouse Cheddar and flavoured cheese, milk, cream, butter, eggs (hen & duck), bread (Taylors of Bruton) and a variety of cakes.
Batch Farm is situated in an idyllic setting on the Pennard ridge with views of the Glastonbury Tor and the Mendips beyond. Cheesemaking has been a family concern at Batch Farm for almost 50 years.
The dairy is adjacent to the thatched farmhouse where Fred Gould runs the farm and Jean Turner his sister the cheesemaking business. Using milk from their 260 Friesian cows, Gould's make around 140 tonnes of West Country Farmhouse Cheddar in the traditional 27kg cylinders.
As well as selling their cheese through West Country Farmhouse Cheesemakers, Gould's Farmhouse Cheddar is also available at their farm shop. The cheese is entered in many local agricultural shows where it constantly gains high awards.
Gould's Cheddar
East Pennard Shepton Mallet Somerset BA4 6TU