Discover Frome: Makers opens with MotherMaker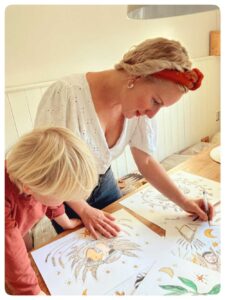 Discover Frome: Makers is a new initiative by Frome Town Council to highlight the numerous, marvellous makers in the town.  The Discover Frome website has been gradually adding to its Discover Frome Makers listings and this weekend (5th March) sees the launch of Discover Frome: Makers exhibition.
The Discover Frome Information Point has been relocated to the round tower at Black Swan Arts to host the new space for local makers to display their talents, with the MotherMaker collective as its first showcase.
With the new location opening so close to International Women's Day it seemed only fitting that the first makers featured should be an all-female collective.
MotherMaker is a community of local artists who continue to create in addition to raising a family. They believe that having children can not only run alongside a successful arts practice but can inform and inspire work.
Jess Francombe, who's helped coordinate the group, said "The art world is not always inclusive and many female artists and craftswomen stop working entirely when they have offspring. Many of the collective have young children and have adapted their practice whilst not compromising on quality."
The MotherMaker artists cover a wide variety of disciplines including jewellery, fine art, macramé, slow-fashion and homeware, all of which will be on show and for sale at Discover Frome.
Featured in the showcase are Hannah Johnston (Han-Made), illustrator Louise Boulter, Claire Orpin (Green Sea Threads), Ali Pitman (The Little Splash Shop), painter Lizzy Bridges, macramé artist Runa Ayres, jewellery-maker Elanor Steel, illustrator Tamsyn Gill, calligraphy artist Yui Church and accessory designer Anna Parkinson-Bates.