Meet the artists: Mark Brookes
In the run-up to the Frome Virtual Open Art Trail 2020 we talk to artist Mark Brookes about his work, the impact of Covid-19 and his hopes for the future.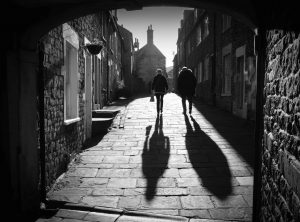 I'm a freelance photographer based in Frome – having returned to professional photography after a break of more than twenty years I now concentrate on documentary and fine art studio work. Much of my recent work is the result of collaborations with local models and artists producing abstract and surreal images. My documentary work is mostly based around protests including actions by Extinction Rebellion in London, Bristol and Frome.
The annual Frome Calendar is another of my publications and some images and cards from the last few years' calendar are now available to purchase.
I studied at Salisbury College of Art many years ago and still retain influences from those days including photographers like Don McCullin, and Jane Bown, recently I've been rather obsessed with work of Viggo Mortensen and the fine art nude work of a photographer called Selina Mayer.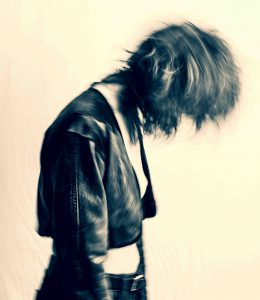 Lockdown brought a sudden halt to my photographic activities, shoots were cancelled, markets and art fairs postponed and my long awaited pop-up gallery in Frome during April and May was scrapped. I'm lucky enough to be able to open the gallery on 1st July just for the month and will be featuring a selection of my work along with three new photo books and Fine Art photographic prints.
The gallery will be at Fromie Gifts in Stony Street as part of the Fromie Gifts 'Meet the Makers' scheme and coincides with the Frome Open Art fair which is great timing, most of the artists will be exhibiting virtually but I will actually have a town centre space. The pandemic pushed me to improving my online offering and I opened a new and much more effective sales platform as well: markbrookes.bigcartel.com
I spent the first few weeks of lockdown staring at the wall not knowing what to do but was then inspired by the poet Liv Torc to take part in her excellent Haiflu project and I produced a number of images during lockdown that went on to feature in her online COVID-19 galleries. It was great to get involved and find new inspiration in a very strange time. I also saw an uplift in online sales and quietly launched my new photo books which are beginning to sell now.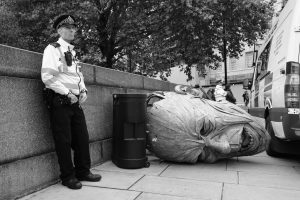 I began documenting the lockdown both at home and outside in the streets of Frome. Some of my images were fairly grim, empty streets and queues at shops, others more quirky – I have yet to decide what to do with most of these images.
With my pop-up gallery opening in Frome on 1st July and the Frome Open Art Trail starting on the 4th the future is looking a little brighter for me. I see myself working harder on the online side of my work including picture libraries and other photographic submissions. I'm looking forward to new shoots as and when the distancing situation is clearer and together with the collaborating models and artists we feel comfortable in working in the studio, there is no rush though…
I've a bunch of ideas including a new book collaborating with Frome based poet B.Anne Adriaens and a series of shoots to provide content for that. I've been entered for a few international competitions so we will wait and see if that comes to anything, last year I was a finalist in the Evolver prize exhibition which was fabulous. I'm now starting to finalise the images for my 2021 Frome Calendar so that's a pretty busy project too… It's important to create and I'm pushing on with that.
You can see more of Mark's work on his website or visit his pop-up gallery at Fromie Gifts, open Tues-Sat 10am-4pm throughout July.
Find out more about Frome Open Virtual Art Trail or visit their website.