Meet the artists: Kate Westcott
In the run-up to the Frome Virtual Open Art Trail 2020 we talk to artist Kate Westcott about her work, the impact of Covid-19 and her hopes for the future.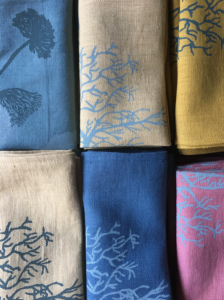 Before we were hit by the confinements of lockdown, I would have described myself as a screen-printer. I have been printing on linen and handmade paper for the last 12 years or so. I print images taken from my own designs that originate from drawings I do of foliage, trees, birds – lots of things inspired by the gorgeous hedgerows and our garden. I print mostly on linen from Scandinavia and France. The inks are water-based, so environmentally kind. I make the printed linen into tablecloths, table napkins, tea towels and more.
Since the end of March, when we were confined to our homes, I found I couldn't really do any 'proper' art. It was hard to let myself go enough to really indulge. We had a houseful of people and I was the main shopper for groceries, and with all the regulations, the 'dos and the don'ts', I found it hard to relax.
I started to find small creative projects, other than screen-printing, which I found I could do and really enjoyed because there was no self-imposed pressure. It was as if I had weeks and weeks ahead of me in which to play. All fairs, sales and art trails were cancelled. I wasn't having to make stock and it felt very freeing.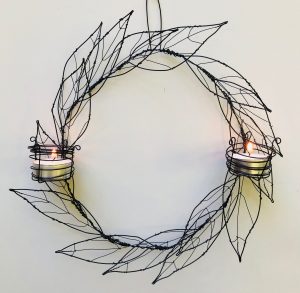 During the last few weeks I have been exploring wirework, having done a course last year with Helaina Sharpley. I've made some stand alone plants, inspired by the hedgerows I saw on early morning walks, and wire wall hangings, some with nightlight holders.
I have also been doing more oil painting, in particular painting interiors of our house, having been inspired by our art teacher, Frome based, Jos Blake. And to fulfil my love of reusing, I have been making boxes from old cardboard and decoupaging them, now forming new boxes which will probably house pieces of wirework.
So after lockdown, I will still describe myself as a screen-printer but feel I have had the time over the last 2 – 3 months to develop other parts of my artistic self. I have really enjoyed developing my experience of different art forms and ultimately it has been the 'time-off' in lockdown that has given me this opportunity. Whist sales have been reduced, as I mainly sell through fairs and art trails, I have truly relished not being under my own self-imposed pressure.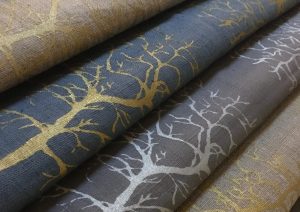 As for the future, as the lockdown lifts and so many art trails and fairs have been cancelled, I am delighted to be part of the Virtual Frome Open Art Trail. Later in the summer, I am hoping to organise, a couple of 'Art in the Garden' Exhibitions with a few other local artists, in our garden in Timsbury.
I am sincerely hoping that all restrictions will be ended as Christmas fairs come into sight in November. I am very pleased to have been accepted at the Winter Fest in Torquay in early December, and in late November, The Little Christmas Pop-up Shop will be held in our house in Timsbury, in some form or other, with exhibits of beautiful work from local artists, a much valued event – let's hope everything is back to normal by then!
You can follow Kate on Facebook or visit her website.
Find out more about Frome Open Virtual Art Trail or visit their website.