Wild about nature – using old wellies as planters
Gardening is a great way to connect with nature for your wellbeing, and it doesn't need to mean taking on a big project or spending lots of money – this activity recycles old boots into planters. Find yourself some old wellies or boots. Children's wellies work really well and this gardening project is ideal for when your kids grow out of theirs but don't want to part with them – you can't get more environmentally friendly than recycling old boots!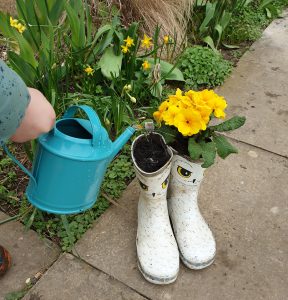 You will need:
Old wellies or walking boots
Organic peat-free compost
Screwdriver/drill or something to make holes in the bottom of the wellies with
Herb or flower seedlings (or seeds)
What to do:
Take one pair of old wellies or boots; if they're worn to pieces and not suitable for hand-me-downs, they're perfect
Create drainage holes with a screwdriver, drill or other tool if they're not already holey enough
Fill with compost
Plant seeds or young plants in each welly boot
Water them, stand in a sunny spot and watch them grow!
These don't even require a garden, you can stand them on the doorstep/balcony or patio if you're short on outdoor space.
Head back here next month for the next Wild About Nature activity and don't forget to take a photo of your planted old boots and tag us on Facebook, Twitter or Instagram.