Connecting with Nature – Mental Health Awareness Week

This year Mental Health Awareness Week, which runs from the 10th-16th May, has nature as its theme. Connecting with nature is known to be an effective way of tackling mental health problems and protecting our wellbeing, and we're fortunate enough to have an abundance parks and green spaces in and around Frome to help us make that connection.
Here are our top ideas for connecting with nature during mental health awareness week and beyond.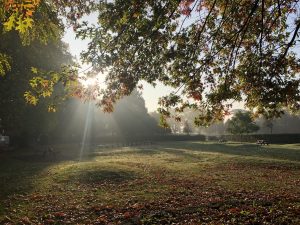 Get out into nature. We have lots of wonderful green spaces in Frome and amazing walks from our doorsteps, so whether it's a short stroll around the park or a hike to Bath, there are plenty of opportunities to get out into nature.  May is a great time of year to explore open spaces – wild flowers are in abundance, birds are busy caring for their young  and if you're out at dusk, be sure to keep a look out for bats.
Listen to the dawn chorus. May is the month for spectacular dawn choruses with the added songs of summer migrants. If you can manage an early start, 5am is when the first singers begin, but you don't have to go miles from home – open a window or back door and let the cacophony of sound in. A perfect moment for mindfulness.
Find nature in your own space. You don't have to have a garden worthy of the Chelsea Flower Show or a wildlife haven to connect with nature. You don't even have to step outside – watch for wildlife or even the changing weather from your window.
Get creative in nature. Whether it's writing, painting, photography or music. Check out our Wild about Nature series featuring different activities to get you and your family closer to nature.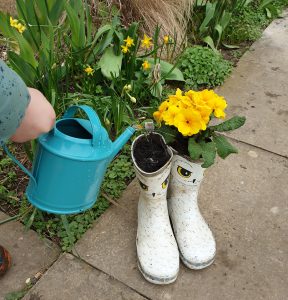 Bring nature to you. Add something to your outside space to bring nature to you – it could be insect-friendly plants, a bird feeder or bug hotel. You don't need to have lots of space – a doorstep or windowsill will do.
Protect nature. Taking care of something – nature – can boost your wellbeing. It could be something as simple as making a decision to recycle more, walk instead of drive, litter picking or joining in with one of Frome's wildlife groups/initiatives.
Use your senses. Using all your senses can give a great boost to your mental health. Listen for birds – swifts will be returning this month – listen out for their 'screams' as they fly around nesting areas at dusk. If you're really lucky you might also hear another summer visitor – the cuckoo. Enjoy the scent of flowers, especially the wild garlic! Watch for wildlife – if you're near the river you might spot a kingfisher or even an otter and keep an eye out for brightly coloured damselflies which start to emerge in May and butterflies in our meadows.