We talk to Frome Writers' Collective about supporting local writers
We talk to Frome Writers' Collective (FWC) about publishing, writers block and what the group has to offer budding writers
What is Frome Writer's Collective?
We are a not-for-profit group, managed by volunteers, providing local writers with a friendly, writing network. We share information about publishing and books of all genres and run events, market stalls and our own book brand, Silver Crow Books. We have a range of members, all at varying stages of their writing careers, and we try to offer encouragement to all.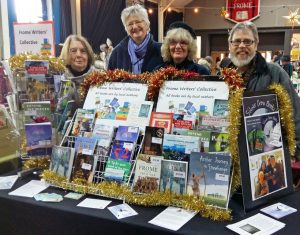 Explain to us what SILVER CROW BOOKS is…
Silver Crow Books is a new concept, offering independent, self-publishing authors a collaborative approach to publishing. The service includes support, guidance, a manuscript appraisal service, discounts from preferred publishing partners and the opportunity for published titles to be marketed and promoted as part of the Silver Crow brand. We believe this is the first scheme of its kind in the country.
Do you believe in writer's block?
Lots of writers get stuck at some point and 'writer's block' can hit anyone. Joining a writing group and talking to others can help a lot. Having over ninety members, we can usually help a writer to find others to join up with. Additionally, we offer two socials a month, with opportunities to hear talks and discuss writing issues
What 3 items would you take to a desert island other than food and water?
We asked a few of our members this question. The most common answers were:
(2) Paper – a very large supply
(3) Books! Some members suggested packing a library onto their Kindles, but abandoned this plan in case the Kindles ran out of charge before they were rescued! Sensibly, they opted for good box sets from Hunting Raven instead! Like the complete Dickens!
What has changed the most about publishing in the last 5 years?
The rise of self-publishing. The old term 'vanity publishing' is fast disappearing and self-publishing becoming a widely accepted way for authors of all kinds to get their books out to the reading public.
Many traditionally published writers are switching to self-publishing to have greater control over the production of their books and a plethora of consultancy firms, both reputable and less so (we use the reputable ones) has arisen to support them. Many authors are becoming very skilled at handling their own book production, however, from producing a single, special book for a family occasion to a more commercial undertaking.
The Internet, E-books and social media. Far from replacing books, as was feared by some, e-books have provided us with a new and very portable layer of literature, with a form of publishing equally accessible to publishers and individual authors. Many writers, whether traditionally or independently published, are now adept at using social media to promote their work.
There is a growing interest in well-produced, quality books. We have also noted a growth in the market for reprints of out-of-print, backlisted books – again, many of these beautifully designed.
In your opinion, who are the most important people in the industry today?
Writers and readers (well, we would say that, wouldn't we!).
What was the last book you read?
We got too many responses to be able to list them all, but here are a few:
The Shame of Innocence by Nikki Copleston
Shakespeare on Toast by David Crystal
Crumbs from a Spinning World by Crysse Morrison
The Glass Mother by Rosie Jackson
The Shape Shifter by Tony Hillerman
Bleak House by Charles Dickens
Autumn by Ali Smith
Die Again by Tess Gerritsen
The Lie Tree by Frances Hardinge
All the Light We Cannot See by Anthony Doerr
How many published authors are part of FWC?
We have twenty-seven published authors – many of whose books can be found on our website: fromewriterscollective.co.uk – and three members with books coming out early in the new year, two of these with Silver Crow Books. Others are in the pipeline.
What should a writer look for in a good illustrator if they need one?
A writer doesn't always meet the artist they choose to work with; nevertheless, he or she must be someone with whom they can communicate – someone who is sympathetic to their work and responsive to their ideas.
Ideally, the artist needs to have experience in book illustration and a good working knowledge of book production. An author may find a friend who produces drawings which are wonderful, but which don't necessarily translate successfully into print, or would take them well over budget. Luckily, there are a host of fabulous artists in and around the Frome area and we have links with a number of these. We are always looking for more illustrators to join our website listing or take a stall at our Small Publishers' Fair. Please do get in contact!
What do you like best about Frome?
We all like lots and lots about Frome!
Answers included:
Creativity, energy and innovation
Independent thinking
Opportunities
Loads of activities and events for both adults and children
Lots of groups to join
Friendliness!
A spirit of collaboration
The markets, galleries and independent shops, especially the Hunting Raven bookshop; the Cheese & Grain and the restaurants and pubs, especially the Three Swans, where we meet.
The architecture and attractiveness of the town
Frome Town Council's 'can do' approach and the focus on local needs
Celebration
The amount of support for others given by local people and businesses