Walkers are welcome at Frome Town Hall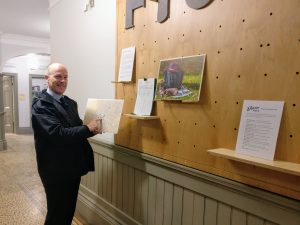 Frome Town Hall's exhibition board is currently featuring walking, with a display of the new Plaques of Frome walk. Frome's plaques, provided by the Frome Society for Local Study, highlight interesting aspects of Frome's history, including famous people and significant buildings. The new walk links these plaques and allows you to explore the rich heritage of Frome. The Town Hall's exhibition sheds light on a few of the interesting details you'll learn along this walk and is up until Friday February 2nd. Come to the Town Hall in the next week so as not to miss it.
You can now also find this information and a selection of walks in town on the Walks in Frome page of Discover Frome. There's something for every interest – from pubs and shopping to history and green spaces – accompanied by an interactive map and a PDF guide.
Cllr Richard Ackroyd is eager to see more people out and about enjoying Frome. He said "Walking is the cheapest form of transport and it is really easy to work up a sweat when you live in Frome! My favourite walk is along the river, starting at Weylands, taking in weir at Welshmill, the roundhouse and the other side, followed by a further walk along Rodden Meadow. Frome is an ideal place for a walk, with picturesque medieval streets and lovely green spaces. If you're looking to explore the town and work in a bit of exercise you're sure to find something you can enjoy."
If you'd like to help us promote and improve walking in Frome, add your signature to the list of those supporting Walkers are Welcome. This scheme helps to maintain footpaths and facilities for walkers and can help contribute to tourism by encouraging town to be welcoming to walkers. You can find our sign-up sheet at Frome Town Hall, where it is also featured in our current walking exhibition, and at the Discover Frome Information Point at the Black Swan Arts.