The countdown to Christmas is on!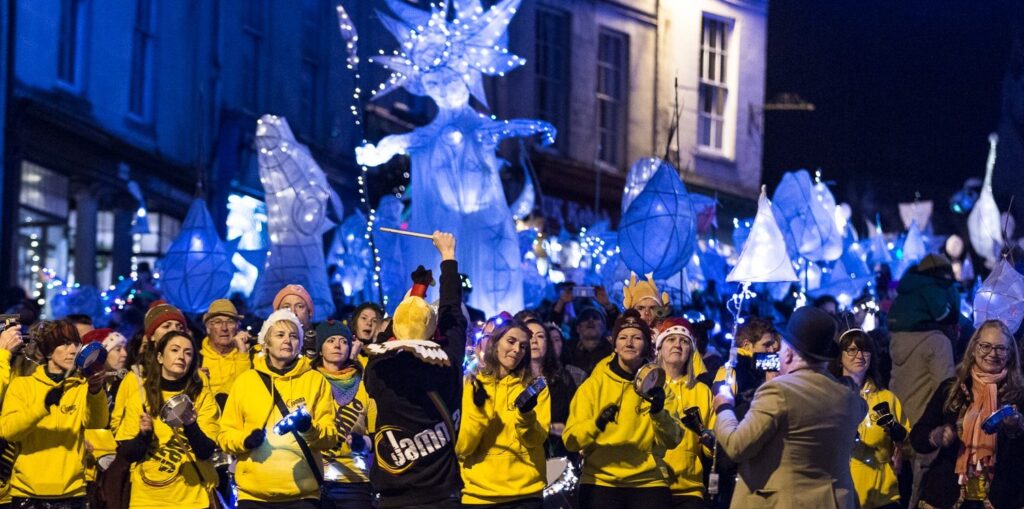 With just two weeks until the much anticipated annual Christmas Lantern Parade and Light Switch On, there is so much to get excited for this festive season.
The event will take place on 24th November from 5pm – 7pm, bringing boundless Christmas cheer to our town centre. Frome Town Band are set to kick off the evening, followed by the Rock Choir with popular Christmas tunes. The musical merriment doesn't stop there; the Frukes will also be marvelling the crowds, along with the return of Jamma de Samba leading the parade itself.
This years' parade theme is 'ice' – why not get involved with the festivities and purchase a lantern making kit, available from Frome Town Hall and the Discover Frome Information Point in Frome Library.
We are particularly thrilled that many of our fabulous local cafes and eateries will be open and trading on the evening, ready to warm us up and treat us all! Amongst them will be Projects Café, serving up delicious hot drinks, soups and cakes. The Cornerhouse will also be offering hot Pieminister pies, mulled cider (!) and more. Even better is that most will be offering your treats to takeaway, so that you can wonder the bustling streets and no need to miss out on any of the festive fun.
Not to mention all of the wonderful local establishments who will already be open and will most certainly welcome the crowds – why not head to Palmer St Bottle to sample the latest IPA, Coop Kitchen at The Ship for delicious street food, or even Flow Bar for a cocktail or two? Whichever way you decide to spend your evening, Frome has you covered.
And if that isn't enough joy and merriment, a Christmas Little Night Market will be running from 4pm – 9pm in the Market Yard hosted by The Frome Independent. The Night Market will be offering up seasonal food and drink and festive gifts, perfect for Christmas shopping!
Set to be a fantastic evening full of good cheer – we simply can't wait to see you all at the Christmas Lantern Parade and Light Switch On, 24th November from 5pm-7pm. The countdown to Christmas is officially on!
Here's the full schedule:
4.00 A Little Night Market opens outside the library
5.00 Music with Frome Town Band, Rock Choir, The Frukes and a special Ukrainian performance on the balcony
6.00 Taking part in the parade? Head to St John's Church by 6pm
6.15 Fire spinning performance from Ragna Fire Collective
6.20 Lantern Parade starts from St John's Church
6.45 Mayor Philip Campagna switches on the lights
6.50 Follow the Samba party and parade down the road
A Little Night Market is open til 9 o'clock!