Somerset Art Weeks Festival 2019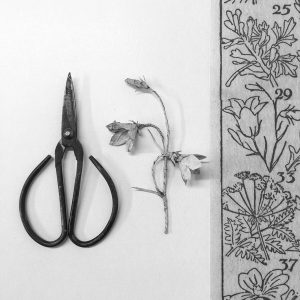 The Somerset Art Weeks Festival is back, hosting a diverse programme of inspiring art exhibitions, workshops, talks, films and installations in over 130 locations across Somerset, alongside exciting new commissions, group shows and education projects involving over 300 artists.
This year's festival, running from 21 September – 6 October, marks the 25th anniversary of Somerset Art Weeks. Since 1994 it has grown and evolved, but retaining the essence of art at the heart of Somerset, investing in the arts community and enriching lives. It is now the largest visual arts event in the county.
As always, Frome is playing an active part in the festival with plenty of opportunities to experience the wealth of talent in the area.
Exhibitions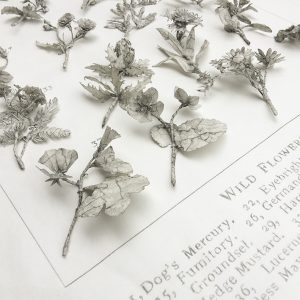 The English Woman's Flora – Fiona Hingston
Venue 78: Black Swan Arts
Open Monday – Saturday 10am – 4pm, closed Tuesday 24th September.
Exploring the beauty of Britain's vanishing wildflowers, Fiona Hingston's new body of work, The English Woman's Flora includes more than 200 wildflowers made from masking tape and graphite. It's based on popular pocketbook The Observer's Book of Wild Flowers. The work is part celebration and part lament for what is and increasingly is not to be found on the land she calls home.
The Norns – work in progress – Lucia Harley
Venue 79: Selwood Studio
Open Saturday and Sunday 11am-5pm and Thursday 11am-3pm.
A collection of recent ideas, including sculpture, sound and action. Themes intertwine and collide between time-travel, taxonomy and Brazil. 'Norn: to twine'.  Twining the thread of fate. Past, present, future.
Part of the research and development phase of Lucia's new project, supported by the Project Development Bursary from SAW's Artist Development Programme.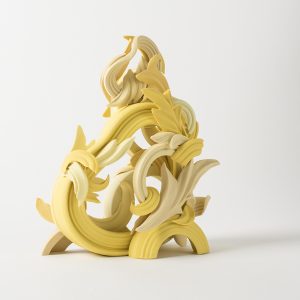 Claymakers
Venue 80: Kobi & Teal
Open daily 10am-5pm (11am-3pm Thursday 26th) closed Monday 23rd September.
Kobi & Teal presents a dynamic collection of new ceramics from some of the UK's most notable makers. The exhibition explores the exciting use of clay in contemporary art, craft and design. Visitors will be delighted by the creativity on show, encompassing form, finish and function.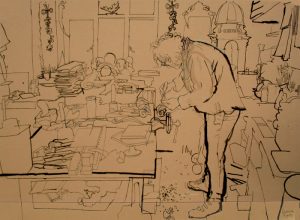 Lucinda Rogers at Settlers Stores
Venue 81: 5 Cheap Street
Open Monday – Saturday 10am – 5pm.
Textile and fashion designers, Settlers Stores, are delighted to host an edit of Lucinda Rogers' Industrious show, drawings of workplaces from Frome, New York and London – the artist and illustrator's distinctive style capturing the industry that is the creative heart of the town.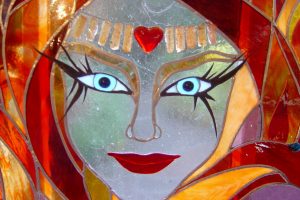 The Glass House: Stained Glass
Venue 82: The Glass House
Open daily 11am-5pm, closed Sunday 6th October.
Art Glass by Design is a hidden studio in the heart of Frome offering commissions for your home or business as well as courses. Come and see how to draw a design, and how glass is cut and put together in either the traditional leading style or copper foil.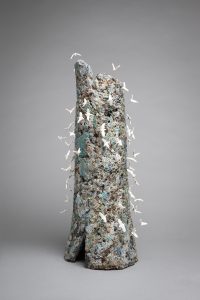 Gare Hill Road Pottery
Venue 83: The Haven
Open daily 10am- 6pm.
Russell Coates makes underglaze blue porcelain bowls, dishes, vases, boxes, jugs and mugs, enamelled with birds, animals and sea creatures.
Hiro Takahashi creates ceramic sculptures, soul houses, allegorical boats, small animals and some functional pottery.
Trevor West exhibits a range of polished hardwood boxes, pens and jewellery.
Tom Charlesworth create intricate illustrations filled with unspoken narrative, often incorporating themes from myth, folklore, and legend.
Events
Meet the artist: Fiona Hingston, Thursday 26th September, 11am – 3pm
Venue 78: Black Swan Arts
Fiona will show the making process behind her exhibition The English Woman's Flora and welcome conversation with visitors.
Meet the artist: Lucia Harley, Thursday 26th September, 2-4pm
Venue 79: Selwood Studio, Baker St, BA11 3EP
You're invited to take part, join in and discuss with the artist around the ideas of play, connection, time-travel and plants.
For more information about the Somerset Art Weeks Festival 2019 including exhibitions in and around Frome, and to download the full guide, please visit their website: www.somersetartworks.org.uk