Fiver Fest comes to Frome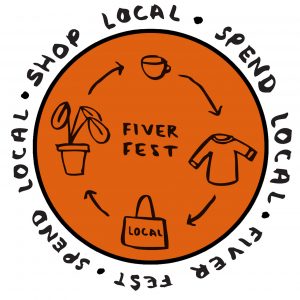 This 5th October local shops and businesses are bringing Fiver Fest to Frome's streets.  Part of the national Totally Locally campaign, Fiver Fest celebrates local businesses, often run by families or individuals, making a real contribution to our unique town.
Spending just £5 a week in local shops can have a huge impact on our high streets, boosting the local economy and increasing employment. It's also a great opportunity to step into a shop you've never been into before and discover what makes Frome's independents so special.
Take a look at what's on offer for Frome Fiver Fest 2019.
Black Swan Café: Breakfast specials for a five 9am – midday.
Studio One – Jo Joof – My first crinkly newspaper, a fun new crinkly cloth book cleverly designed to look and feel like a real newspaper. Read all about it, every little one should have one. "A look around Town' title for a fiver. It features little hints of Frome including a cobbled hill.
Studio 2 – Badger House Leather: Liz Huband – Hand made key rings and cable tidies for a fiver, all made with vegetable tanned leather off cuts.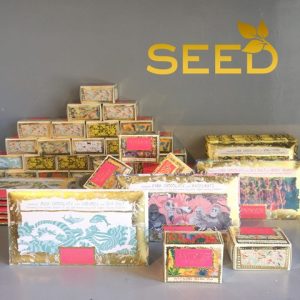 SEED, 3 Catherine Hill
Handmade chocolate and soap for £5
Mini weaving set (two small frames, comb and needle) and three balls of Sirdar Happy Cotton in your choice of colours.
Tibetan Memories at The Good Heart serve a hot fresh meal every day for £5. The offer is a free cup of Shotimaa tea which normally retails for £2.50.
Fill make refillable eco cleaning products that look cool, work great and reduce packaging waste. We have hand soap, all purpose cleaner and washing up liquid in beautiful, refillable 500ml glass screen-printed bottles all on offer for a fiver. Refills are then just £4 with your 5th free.
Any 3 scoops of our homemade delicious ice cream topped with a choice of sauce, a florentine wafer and chocolate curls!
Any pack of organic loose leaf tea, that is blended in house to our own recipe. Every year we travel to India to meet the farmers and pickers, then bring back the highest grade tea for the people of Frome to drink.
A delicious brownie and flat white coffee for £5.
5 Donna Sarah illustrated houseplant postcards for £5.
Donna Sarah is a Frome-based illustrator that has collaborated with Pilea on postcards, ethical tote bags and she has hand drawn our beautiful window illustrations. She also designed the Frome Fiver Fest logo.
Nook, 14 King Street
Original Acai smoothie bowl for £5.
Six styles of Nomad caps for just £5 each, for one day only.
Any loaf of bread and any coffee for £5.
Supporting sustainable fashion with bamboo socks and scarves for £5.
Chocolate lollies & chocolate slabs all at under £5. Try your favourites, or push your boundaries with some new flavours such as Chilli or Ginger, Coconut or Quinoa at the unique Choc et al Tasting Station….the only boundary is your mind. Quality chocolate that you can try before you buy, all at under a fiver.
Millie Moon's brand new kids felt craft kits will launch in store on Saturday 5th October for the special price of £5.
A limited edition Postscript designed A5 Notebook. RRP £7.99, buy one for £5, and for another £5 get two more (60% saving). For a further £5 you can have it personalised on our digital foiling machine. Usual foiling price £7.99.
Available in 8 designs, including 3 unique covers featuring Peter Hayes' Ceramic masterpieces. Perfect for that personalised Christmas gift for any stationery geek.
Philly Cheesesteaks &  Somerset Cheese Burgers – Penleigh Butchers Meat, Rye Bakery Buns, Somerset Cheese *Vegan Burgers and Philly Cheese also available.
A selection of goodies for 3-10 years olds.

Jasmine  embroidered slippers and Nahla linen button dress – £5 each.
A a pie or sausage roll and any pint, medium glass of wine or soft drink for £5.
Hand block printed cushion covers (40cm/16inch) on quality cotton from Rajasthan India.   We also have a selection of other cotton cushion covers for £5.
Gorgeous handmade dog soaps created in the nearby town of Bradford on Avon. Made from natural essential oils, creamy butters and botanicals. Plastic free and pup friendly!
Lavender, Honey and Oat – Perfect for Sensitive Coats.
Peppermint and Green Clay – Great for aches and pains, treating seasonal allergy symptoms and fighting infections.
Bamboo Charcoal Lime Cedar – Ideal for refreshing your dogs coat and repelling any nasties such as fleas and ticks.
Two books from indie publisher Faber & Faber for £5 for Fiver Fest – also Bookshop Day. One is a children's book, The Somerset Tsunami, by Somerset-based children's author Emma Carroll. It is the Bookseller Association's Children's Book of the Month for October. The second is the Booker-long listed dystopian novel The Wall by author John Lanchester.
Selected curtain fabric and cotton poplin dress fabric at £5 per metre; ready-made blinds at £5 each, for one day only.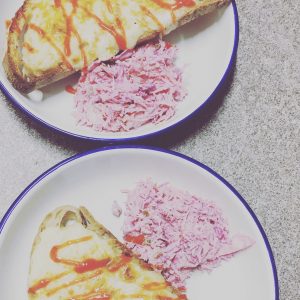 Somerset rarebit served with jalapeno slaw for £5.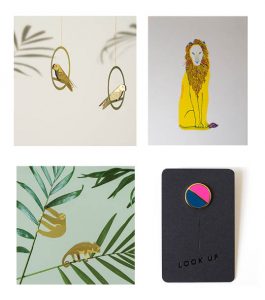 Colourful Enamel Pins (in 8 designs) by Look Up; Hanging Bird Decoration by Another Studio; Plant Animals by Another Studio + choice of Animal Card by Polly Bell; Lion Risograph print by Hannah Waldron; Oompahpah: The Creative Zine for Kids.

A Bloody Mary cocktail, normally £8 but offered for a fiver on the 5th.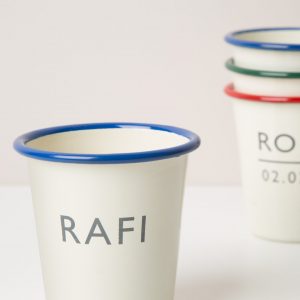 Enamel Cup or Mug for £5.
Can be laser engraved with any design for an additional £5 (designs no bigger than 60x60mm).
(Normal RRP for laser engraved enamel mugs £18 and £15 for cups.)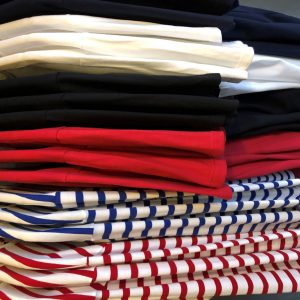 Assembly, 8 Catherine Hill
Buy One Armor-Lux basic T get a second for £5.
Spend a little more on quality pieces, to slow down fashion – spend more, shop less.
The basic T is the simplest way to start, one quality T instead of 4 or 5 cheep ones that shrink, lose their shape, don't last a season and end up in landfill.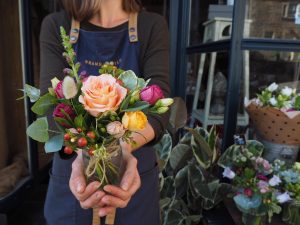 Jam jar posies, these are usually £10 but £5 for the Fiver Fest.
Pretty posies of seasonal blooms, half price for one day only!
A mini luxury Kevin Murphy shampoo and conditioner for Fiver. Usually £14-£16
A perfect way to try out Kevin Murphy sulphate free, paraben Free, cruelty free and peta approved products.
Boho, 31 Catherine Street
Spacemask – a self-heating eye mask which will transport you to another dimension – relieving tiredness, eye strain and many other Earthly tensions.
Vertical Garlands in various designs and colours – leaves, dinosaurs, birds and more.
At the River House, we are offering retail bags of our Loud Mouth coffee beans for a fiver. 250g bags are available in all our single original roasts, as well as decaf as our signature Proper Gobby blend.

A selection of gifts and home accessories for a fiver.
SHARE, 3 A The Bridge
£5 free borrowing credit (valid for 12 months) when you sign up for a Standard or Subscriber membership.
Leopard bralettes for £5.
Frome Market, Cattle Market car park
Harts are fishmongers and have traded at Frome Weekly Market on Wednesdays and Saturdays for nearly five decades!
As well as taking part in Fiver Fest, Harts will be celebrating Seafood Week on Saturday 5th October and are bringing an amazing £5 offer on prawns. Available on Saturday will be four different types of prawns, including Wild Argentinian Prawns, King Prawns and Royal Greenland cold water Prawns.
….
Jodie's Pet Supplies will be offering three bags of wild bird seed, peanuts or sunflower hearts for £5! One of Frome Weekly Market's second generation traders, you can find Jodie's Pet Supplies at Cattle Market Car Park every Wednesday and Saturday.