Pioneers in Practice: the Vets of Garston House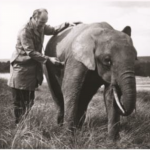 Frome Heritage Museum has a new exhibition…They have recently been the grateful recipients of a significant archive donated by a local vets practise. Its significance was not initially apparent but upon examination of the extensive collection, comprising veterinary artefacts, documents, specimens, notebooks and ledgers, its true value was revealed.
The story that emerges from this book is one that both inspires and astounds, for the Garston Vets were truly revolutionary. From the ground-breaking work caring for the exotic animals at the Chipperfield family inspired Longleat Safari Park to innovative research and study of early vaccines for farm animals, the vets were true pioneers.
Whether performing a Caesarean section on a camel, stitching a lion's wounds in an enclosure surrounded by the rest of the pride, undertaking a post mortem on a budgie, or treating a sick tapir – such tasks were all in a day's work for the vets of Garston House. The life of a country vet in this practice was not for the faint-hearted but it was most certainly never dull.
Arguably one of the most comprehensive of such collections in the country, the Garston Veterinary Group archive reveals a most extraordinary tale of innovation in animal care.
The museum is open from 10 – 2pm Tuesday – Saturday.  To find out more go to fromemuseum.wordpress.com
A book entitled Pioneers in Practice: the Vets of Garston House has been published to accompany an exhibition of the Garston Veterinary collection, at Frome Heritage Museum, Somerset.
The book, available from the museum, is priced at £18.00 plus p&p.