New plaque highlights famed Frome local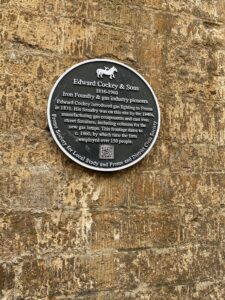 On Thursday 28th April Frome Society for Local Study, along with Frome & District Civic Society and Frome Town Council celebrated a piece of Frome's history with the unveiling of a plaque to commemorate the work of industrial entrepreneur Edward Cockey.
The Frome resident founded an iron firm in the town and introduced gas lighting to Frome in 1831. The early gas lamps known as 'Cockey Lamps' are a unique part of Frome's street scene and are in need of renovation, although there is currently a project to survey them instigated by Frome Society for Local Study and supported by Frome Town Council.
The new plaque honouring his success can be found on his former iron foundry in Palmer Street, which now belongs to YMCA Brunel Group.
Vice-Chair of Frome Society for Local Study, David Lassman said, "Cockeys played an integral and important part in Frome's industrial history and so the Frome Society is proud to be able to commemorate their contribution with this plaque."
For anyone interested in learning more about Frome's past there is a free walk designed to take in all the plaques established by the Frome Society for Local Study. The plaques allow visitors and residents alike to explore the rich heritage of Frome through its buildings and the interesting people who occupied them, including figures like poet Christina Rossetti and the Duke of Monmouth, who attempted to overthrow King James II.
You can download the route from our Town Walks page.
Find out more about Frome's Cockey Lamps.