Frome Theatre Company Win Olivier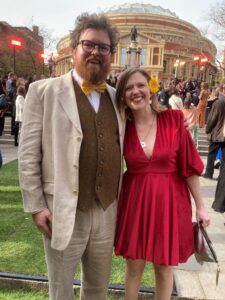 Local theatre company Little Bulb picked up the Olivier Award for 'Best Family Show' at this year's star-studded ceremony. The 2022 world renowned Olivier awards, generally considered the top award in theatre, took place at the Royal Albert Hall last month.
The company founders received their 'Olly' alongside other big winners of the night 'Cabaret' and 'Life of Pi'.  Their award-winning folk opera 'Wolf Witch Giant Fairy' which ran at the Royal Opera House over Christmas, was devised by the company and partially rehearsed and created here in Frome.
Dominic Conway, the company's Musical Director said: "We couldn't have made the show without the incredible and generous support of Cooper Hall where large sections of the show were composed and devised."  Speaking about local connections Dominic shared that the company were excited to work with local artist Louise Boulter who created one of her magical illustrations especially for the show's poster.
The company's Artistic Director Alexander Scott said: "We are absolutely thrilled to be given this award. As an experimental and devising theatre company we were a little out of our comfort zone at such a glamorous ceremony but had an absolutely fantastic night. It really is such an honour to be recognised by the judges and a testimony to all of the hard work and collaboration from a multi-skilled and truly wonderful team. We just love making work that is accessible, fun and for everyone."
In their thank you speech on stage in front of the 5,000-capacity venue, Alex and leading lady Clare Beresford reflected on how the theatre making process has been shaped by lockdown and how their show was a 'love letter to audiences' after being away from theatres during the pandemic.
The company has been making work for 14 years and have toured extensively both in the UK and internationally. They moved to Frome 5 years ago and are excited about making more work locally.  They couldn't be more local for their next production, Feast of the Gods, which will be at the bandstand in Victoria Park at midday on Saturday 2nd July 12-2pm for a celebration of food, music and love.
Part of the Frome Festival, this free, fun, family event is sure to be a feast for all the senses! Join Little Bulb and their merry band of theatrical chefs as they serve you a delicious mixture of canapés, drinks and joyous live music in the park. Bring along a picnic and they'll provide the party!