Meet the artists: Sue Willis
In the run-up to the Frome Virtual Open Art Trail 2020 we talk to artist Sue Willis about her work, the impact of Covid-19 and her hopes for the future.
I'm Sue Willis and I do pen and ink drawings and silk paintings. I take my inspiration from nature and a love of mandalas. I like to get lost in small, intricate detail for my drawings, and bright colours for my silks. I live in Frome with my husband, son and cat, and I do most of my artwork in a small cabin in the back garden. I have an almost full time job running a local charitable organisation (Purple Elephant) so I fit my art around work and family.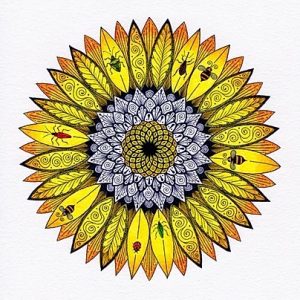 The pandemic has made my normal life strange – I usually work from home so that's stayed the same, and I've continued to be busy so haven't had lots of time on my hands. But I have spent lots more time at home (where my husband is now also working) or out walking in deserted places! I've found the reliable and repetitive nature of mandalas quite reassuring, and my detailed drawing work keeps my mind occupied, providing an escape from worry. At the beginning of lockdown I set myself a challenge to create one new drawing each week, but I've only managed 5, which I think reflects the fact that everything seems to need more effort at the moment!
Sales of my artwork have been affected as my regular outlet (Town Hall Arts in Trowbridge) has been closed, along with many other shops and galleries, and markets have not been operating. The Frome Open Art Trail, which has been a good outlet for me, has gone virtual this year and we're yet to see how effective it is.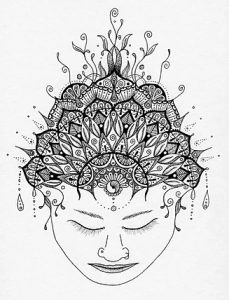 I miss the face to face contact with customers that markets and the art trail allow – selling online just isn't the same and I've only just set up a website, so progress is slow. However, I probably wouldn't have got round to setting up the website if the FOAT hadn't gone virtual, so that's one benefit of the current situation! And I've just done a virtual exhibition video, showing my work in my bedroom and cabin. And I've met some new artists online which is wonderful.
My current plans are to complete my mandala challenge (I'm currently working on the 6th one and have ideas for the 7th – they follow the colours of the rainbow), make some more silk scarves, and start work on a special piece for my mum.
You can find out more about Sue's art on her website.
Find out more about Frome Open Virtual Art Trail or visit their website.