Meet the artists: Alexandra Brown
In the run-up to the Frome Virtual Open Art Trail 2020 we talk to artist Alexandra Brown about her work, the impact of Covid-19 and her hopes for the future.
My name is Alexandra Brown and my studio is on the top floor of The Silk Mill in Frome. I paint and draw and often incorporate copper-leaf into my paintings.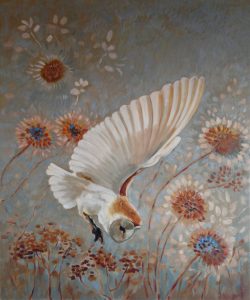 My paintings over the last few years have often been of animals and flowers. They tend to be exuberant and celebratory as I am always aware of the fragility of the natural world and the need for it to be seen with a kind of reverence.
When the Covid crisis hit I thought that maybe I should try and work at home. So I carried a lot of stuff down three flights of stairs and packed it in the car and took it home where I tried to find a suitable spot to paint. The next day, when home-schooling of the children was finished for the day I realised that there was no way this was going to work. I didn't have the light and the space and there was too much distraction from the whole heightened sense of emergency. So I packed it all back into the car, and carried it all back up the three flights of stairs and made the decision to keep on going to work in Frome in my studio where the conditions for work feel constant. All I have to do is step inside and I know what to do. The rest of the world falls away.
The first week or so I would often leave the house at 6.30am and try and get some hours in before lunch. I felt that I had to keep a low profile as everywhere seemed deserted and it felt a bit illegal that I was leaving the house.  I was feeling quite pessimistic about whether I would be able to sell anything for a while and wondering how our family would survive!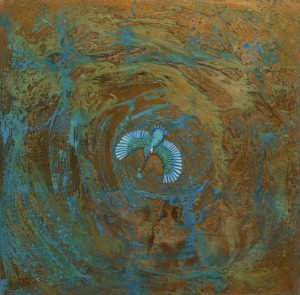 However three or four weeks in, I became aware that some artists were selling quite a lot of work with something called the Artist Support Pledge. I decided to give it a go and immediately had three buyers for the first piece. And so it went on. I sold much more besides because sometimes people became interested in larger pieces, or commissioned pieces similar to ones that I had already sold. Soon I was working absolutely flat out!
I am not sure how things will change going forward as I do fear the effects of the coming economic crisis. I do feel though that I have discovered a new model with which to work and sell work. Instagram can expand the artist's reach ever further, something I only hoped to do before through a gallery. And the model of selling small works and drawings at an affordable price has increased my turnover both artistically and financially. I hope I can continue working in this way. I think a lot of artists would agree.
You can follow Alexandra on Instagram: @alexandrabrownart or visit her website.
Find out more about Frome Open Virtual Art Trail or visit their website.