Meet the artists: Stephanie Gay
In the run-up to the Frome Virtual Open Art Trail 2020 we talk to artist Stephanie Gay about her work, the impact of Covid-19 and her hopes for the future.
Born in Somerset but having lived in Berkshire for almost 30 years, Stephanie recently moved to Somerset with her husband Andrew and miniature poodle Frankie.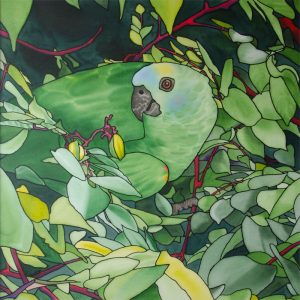 Stephanie has specialised in painting on silk for more than 15 years. She is inspired by the natural world and loves to paint the British landscape, flora and fauna in a vibrant and contemporary style. She exhibits her work widely through arts trails, group and solo exhibitions and in her own studio gallery in Wrington. She has had work included in the Society of Women Artists annual exhibition at the Mall Galleries in London. In 2017 she was named Berkshire and Buckinghamshire Life Landscape Painter of the Year.
"For me, painting is about not only capturing the visual appearance of my subject but, more importantly, the feelings it inspired in me"
All of Stephanie's work is hand painted on Chinese silk.
"I love the beautiful sheen of the silk, the vibrant colours and the flow of the paint on the fabric"
Sadly Covid-19 came along at the prime time for exhibitions and arts trails meaning they have all had to be cancelled. So I haven't been able to physically show and sell my work. I have instead concentrated on exhibiting and selling my work through my website and social media.

Initially when I was unable to go and work at my studio because of restrictions on non-essential travel, I completely lost all motivation and inspiration to paint but since being allowed back in the studio I have really enjoyed the peace and quiet the lockdown has created.
Since the lockdown my direction has changed from painting the beautiful landscapes in the Mendips to subject matter closer to home such as the flowers in my garden. I'm not sure why that is but maybe its just that we have got used to living in our smaller worlds.
At the moment I'm enjoying exploring flowers but hope to get back up into the Mendips soon.
You can follow Stephanie on Instagram: @stephg_artist or visit her website.
Find out more about Frome Open Virtual Art Trail or visit their website.