Meet the artists: Nicola Clark
In the run-up to the Frome Virtual Open Art Trail 2020 we talk to artist Nicola Clark about her work, the impact of Covid-19 and her hopes for the future.
My name is Nicola Clark. I moved to Frome last autumn and I'm a painter and a singer/songwriter.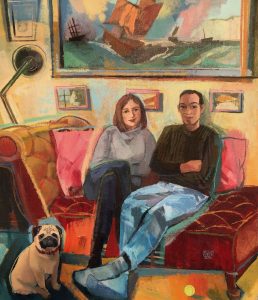 I have wanted to be a painter for as long as I can remember. I did my BA in Fine Art in London at the Central School before it combined with St Martins. My influences were mainly painters who had a narrative and somewhat fantastical bent. I wanted to be as sensitive as Cecil Collins, as muscular and mysterious as Max Beckmann and as aware of earthbound Spirit as Stanley Spencer.
In the 80's I got somewhat distracted from painting, focussed more on the spirit, and went off to an ashram in India for 7 years.
Later, after 7 further years in London painting portraits and winning a BP portrait prize, I developed an interest in music and went to Cornwall, to become a singer/songwriter in middle-age.
I am not much of a business person – the main effect Covid-19 has had, is to keep me in the studio (my conservatory at home) which is no hardship. It has provided an opportunity to concentrate on painting.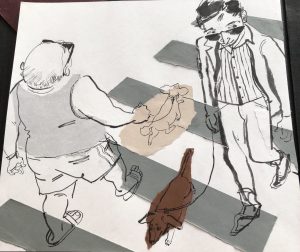 The business aspect of my work, would have been regular open studios – I held them once a month when I was in Gloucestershire.
I can see that for the time-being, I will have to concentrate on online opportunities and the requisite technology; probably a good thing.
The situation the whole world has been enduring, has been so sad and strange, it has not really inspired any of my work. It has left much time for thought and imagining the world we might want to create, now that we may not be able to revert to our previous freedoms.
I am using some of this time to collate and illustrate (and hopefully eventually record) all the songs I have written.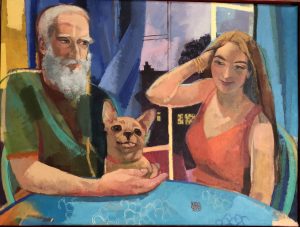 I think the song-book I aim to produce could be really good fun. It tells many stories, both inspiring and amusing, possibly sometimes just bewildering.
For years I have wanted to produce a singing self-help book; this might be the moment.
You can follow Nicola on Instagram: @paintingsongstress or visit her Facebook page.
Find out more about Frome Open Virtual Art Trail or visit their website.