Meet the artists: Jenny Barton
In the run-up to the Frome Virtual Open Art Trail 2020 we talk to artist Jenny Barton about her work, the impact of Covid-19 and her hopes for the future.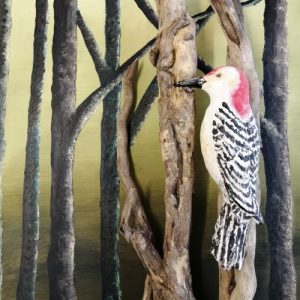 My name is Jenny Barton. I established Enigma Pottery in Frome in 1999, lived and ran the pottery studio and gallery for 20 years until I moved to the Great Elm on the outskirts of Frome last year.
Moving to a smaller studio and downsizing the business has allowed me the time to venture into other mediums for my artwork. With mixed media of oil painting, ceramic sculpture and wood I now create works inspired by the fauna and wildlife in my beautiful woodland surroundings in addition to my ceramic tableware.
Like many people, this Covid-19 pandemic has given me time to reflect on how much the stress of everyday existence has worn us down. A lot of people I know are feeling like they do not want to go back to the way life was before.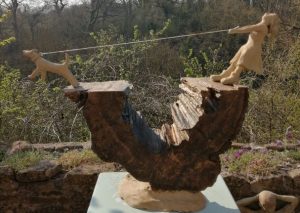 I am so lucky and privileged to have been able to spend the lockdown in the comfort and surroundings of the village and have the sanctuary of my studio to keep me sane. I have greatly benefitted from the gift of time that not working has allowed. This new creative phase of my life is evolving and I would like to spend more time creating larger sculptures.
During the Frome Open Studio, as we have had several restrictions lifted, I intend to invite those interested in my work to come along to the studio by appointment only. To make an appointment to visit please email me at jbarton@enigmapottery.co.uk
You can follow Jenny on Facebook or visit her website.
Find out more about Frome Open Virtual Art Trail or visit their website.