Meet the artists: Artfulfi (nee Fiona Sharman)
In the run-up to the Frome Virtual Open Art Trail 2020 we talk to artist Artfulfi about her work, the impact of Covid-19 and her hopes for the future.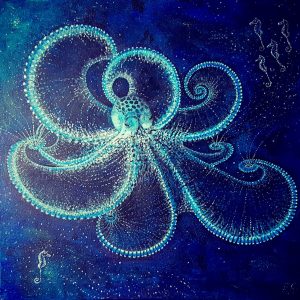 I am a creator of abstract Art based on the ephemeral, spiritual and natural world. I've travelled extensively in south East Asia where the culture, art and landscape has undoubtedly influenced my art, as seen in my cosmic seascapes and batiks.
My art has been a hobby of mine for over 30 years and I sell the odd piece at exhibitions, art trails plus I've had a number of inspiring commissions that have taken me in a variety of experimental, media directions.  I've longed to develop my Art both personally and as a business but been distracted by my work as a Landscape Architect, where I was primarily engaged on the planning, landscape assessment side of things rather than being creative.
My work as a Landscape Architect dried up with Covid-19 and I was placed on furlough. The pandemic has been a learning process of self-reflection for me. Whilst initially worrying on many levels, it has meant that I could turn my attention fully to my art. Being able to allow myself what I conspired to be the luxury of working anytime and full time on my art has been revealing.
I seemed to hit many psychological blocks and felt frustrated that I hadn't produced as much art as I hoped in time for the Frome Arts Trail. However, every time I worked through a block I seemed to develop that little bit more as an artist and an understanding of self and my self imposed limitations. During this period I was very inspired by the following passage written by Patti smith in the book 'Just Kids'
'I was scattered and stymied, surrounded by unfinished songs and scattered poems. I would go so far as I could and hit a wall, my own imagined limitations. And then I met a fellow who gave me his secret, and it was pretty simple. When you hit a wall, just kick it in'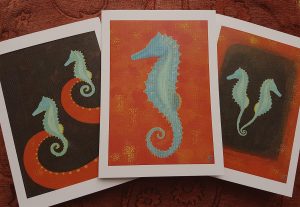 In response to the pandemic I feel compelled to create inspirational images that are otherworldly, full of beauty, the natural world and provide a sense of optimism and act as an antidote to the suffering and confusion. I've also recognized the importance of communication and collaboration having not been able to connect with people so easily. I am therefore looking to engage with more collaborative arts projects and just this week took part in the Bigbrushart project, plus I am working with a musician/band to create a stage backdrop.
I have a studio and would like to welcome people to visit, to promote interactivity and social contact. The studio is separate to my home and social distancing can be done safely. Pleas contact me to arrange a visit. I can be contacted at fionasart@me.com or telephone 07813 204610.
To view or purchase Fiona's work please visit her Facebook page.
Find out more about Frome Open Virtual Art Trail or visit their website.