May at the Merlin
Frome's professional community theatre, the Merlin, has embraced the start of the season with a spring in its step as its programme for May brings something for everyone, including live ballet, a National Theatre screening with Ralph Fiennes, brand new writing and this year's first outdoor show, Peter Pan, on the ECOS amphitheatre.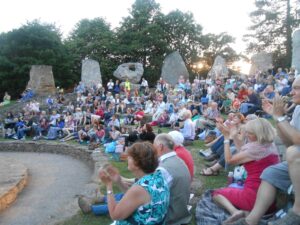 Performed by international award-winning Illyria Theatre,  Peter Pan tells the classic story of Wendy Darling, Captain Hook and the boy who never grew up, in Neverland.  Originally performed in 1997, this reworked 2022 production is the first one to feature REAL flying!  As with all good tales and touches of magic, the company are keeping their photos under wraps for the time-being so audiences will be in for a big treat as they are encouraged to bring along picnics, cushions, blankets, plus the whole family, for this outdoor theatrical treat on Sunday 29th May at 2pm.
Dance-lovers will enjoy a very welcome visit from Images Ballet Company. Directed by former Royal Ballet dancer, Larissa Bamber, and presented by London Studio Centre, this new show is described by Dance Tabs' Bruce Marriot as "…one of the most exciting I've seen in years with a wonderful and eclectic choice of repertoire, danced with passion and verve."  Recommended for age 12+, this wonderful troupe of skilled performers can be seen at the Merlin for one night on 21st May.
Also in May, the Merlin plays virtual-host to The Bridge Theatre in London at it screens a live performance of David Hare's brilliant, blazing account of Robert Moses, the most powerful man in New York, whose legacy changed the city for ever. Starring Ralph Fiennes, on Thursday 26th May, this NTLive screening is part of the exhilarating programme of events making theatre accessible to all without the added costs and trouble of travelling long distances.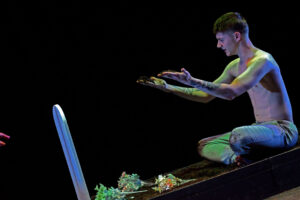 Ahead of the established companies' offerings, young, professional company, Black Hound Productions, formed and created in the South West, brings audiences contemporary theatre at its most fresh with a debut piece of new writing, The Predicament of Jackson Scott.  This dark comedic play shows some of the area's home-grown talent in a play about queer relationships, grief and secrets.  Suitable for adults and young people over the age of 12, this original production is on Saturday 14th May.
Details of all times, prices and ticket-buying options can be found on the website at merlintheatre.co.uk