Jubilee throwback: children of 1977 on being the Queen's Frome guide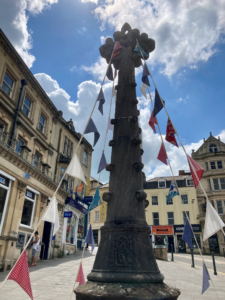 In 1977, the year of the Queen's Silver Jubilee, a competition was arranged for schoolchildren to write an essay imagining they were chosen to be the guide if the Queen came to visit Frome.
There were entries from children ranging in age from 7 years to 13 years, attending the First Schools of St John's, St Louis and Trinity Schools and the Oakfield and Selwood Middle Schools.
We unearthed them from Frome Library and they provide a vivid picture of Frome in the 1970s. Many of them feature Cheap st, Gentle Street with its Chinese staircase and St John's Church.  The Queen's transport varies from helicopters and carriages to black Rolls Royces.  The sports centre is a favourite and the 'new' Westway shopping centre.  Some focus on the livestock market and local farming.   Butler and Tanner, Singer and the Quarry all get a mention.  And many of the children of course want to take her home to meet the family.
Here are some extracts:
Jane Hart age seven. From St John's School, knows about the Queen's love of horses..
I would take her home and give her some tea.  I would show her my rabbit.  I would take her to Red Cross and show her all the children there.  I would take her to the new shopping centre.  As she likes horses, I would take her to see Nutmeg and Cinnamon.  They are two horses. I would like her to see the river Frome which gave the name to our lovely town..
Lisa Sheppard age nine explains about the lions in Trafalgar Square and our Round House…
The Queen would probably come by helicopter and land in the sports centre grounds.  Before we would go on the tour I would tell her that the lions in Trafalgar Square were made at Singers in Frome…
The Queen and I would go down into the market then and I would show her the Round House where in the olden days the people of Frome used to keep the people who didn't obey the law.  It had no windows and the door was solid oak.  It was dark in there and most probably had cobwebs.
Helen Bird age 9.  Selwood Middle School. Describes the uses of Cheap Street's stream and the early history of Frome..
I would explain how Cheap street got its name and that Cheap meant market, then I would tell her that the stream running down the middle was where people used to get water to wash and drink, also that people threw rubbish in it and children played in it…
I would tell her that a long time ago there was a great forest here and only rough people lived there.  Then I would go on to say a missionary called St Aldhelm came and told the rough people about God and then he built a mission station about where St John's church is now , then I would say the rough people built their houses round the mission station.  After that I would say there was a river called Ffrow running through the forest which was now called Sallow Wood. So many years passed, the river's name Ffrow changed to Frome and the town of Frome got its name from the river.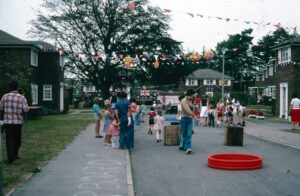 Then we would go to the Settle restaurant and have a tasty meal and a glass of Sherry.  Then we would go to the Blue House and I would say the poem "Nancy Gug and Billy Ball standing on the Blue House wall".  I would say that it used to be a boy's school.  I would tell that the blue house gets its name because the boys wore blue and say it is now an old people's home…
A while later we would ride on horses to the westway centre and I would take Her Majesty into each shop, first the shoe shop, then we would go into Martin's and I would buy the Queen an interesting magazine about the Silver Jubilee so the Queen could see what people write about it.  Then we would see the Mac Market and the International.  
Rachel Scott age 9 is keen the Queen will be given something to help her remember Frome..
…We would go up Catherine street to the pottery shop to get a souvenir…  
Sally Lestrange age 12.  From Oakfield Middle School wants to talk about local dairy farming..
I would try to show her some of the industry which would illustrate the way of life for a farming community on the edge of the Mendips.  We would start our tour at the Express Dairy processing plant at Oldford, where cream, yoghurt and other milk products are made.
Next we would go to Manor Farm, Cloford to see one of the most modern farms in the district where Mr House, the owner, does a lot of breeding with foreign cows.  Then to finish the day off, we would go to Foster Yeomans Quarry at Mere-head, on the Shepton Mallet road.  This is the longest quarry complex in Europe and has its own railway line right into the quarry to take the stone out.  Although quarrying is naturally a dirty job, the quarry is kept very clean and tidy.
Andrew Vincent age 13 . Form Selwood Middle School is sure the Queen will be impressed by all the activities at the sports centre…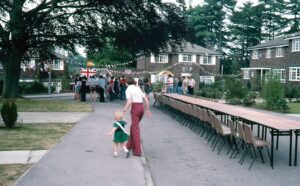 I would take her by car to the sports centre and show her its facilities for football, hockey, rugby, volleyball, squash, badminton, swimming, archery, judo, karate, bowls, table tennis and gymnastics…
Still by car, I would take her to Trinity church to show her the very valuable stain glass windows, the windows that I think are very beautiful.  Then I would take her along Trinity Street to Butler and Tanners old factory and show its massive size and stonework.  
After her visit to the trinity area, I would take her by car to Frome Museum in Wine street.  Here I would show her a copy of part of the Domesday book, the part that covered the Frome area.  Also in the Museum is a wonderful model of nearby Nunney Castle which was handmade by someone locally.  
Finally I would take her (still by car) to the modern Health Centre at the top of Park Road.  This Health Centre is very modern and was one of the first in Somerset to open.
Ciaran O'Flynn age 7 explains why Prince Philip won't be there and makes a cryptic comment about St Ivel..
…Prince Philip would not be coming because he's on a tour of Africa…
..I would show the Queen the local factories and my dad's factories and I will tell her his greatest enemy is St Ivel..
Nicholas Baker age 10 . From Oakfield Middle School also mentions the livestock market and talks about the new Merlin theatre, where the Queen would watch a little play…
…the first place I showed her was the market place and I told her that we sold livestock there, like chickens, cows and pigs and farm stuff.  Then I took her to our new shopping centre and showed the Queen all the prices in the shops and she bought some food…
..then I took the Queen to our very new theatre called the Merlin and she thought it was very nice and she watched a little play.  Then I took her to the fire station because they save lives and we've got two fire engines.  I also took her to the ambulance station and she talked to the men who drive the ambulances and she sat in one…
Finally, Hayley Weeks 12 years. From Oakfield Middle School would invite the Queen to eat at the Portway Hotel and would make sure there was wine before a trip to Longleat..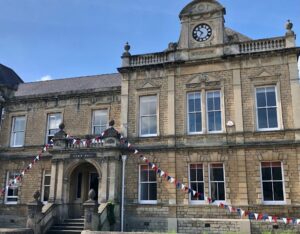 I would take her down to the town centre, if it was a Wednesday I would also take her round to Frome market and let her watch some cows being auctioned.  By this time it would be dinner time.  For dinner I would take her to the Portway Hotel so that she could have dinner with the Mayor, Mayoress and also the show jumping gold medalist Brigitte Parker.  I would let her choose her own food off of a menu.  The menu would include things like roast chicken.  I would also make sure there was wine to drink.
Then we would walk to a waiting car, it would be a black Rolls Royce.  We would then drive to Heavens Gate which is near Longleat House which is not very far from Frome.  I would try to make sure that when she came it would be a day when all the flowers are in bloom at Heavens Gate,  it is very pretty when they are because all around you there is a mass of colour.  We would have a giant picnic.  The food would include oranges, apples, sandwiches, grapes, bananas, biscuits, cakes, peaches and fruit salad.  We would have a very big cake with Happy Silver Jubilee written on it.  To drink we would have tea, coffee and lemonade.  After we had eaten the food and the Queen had had a rest, we would go to Longleat House where she would meet Lord Bath.
She then would be given a conducted tour of Longleat House.  Lord Bath could tell her the famous story about the Lady in Grey which haunts Longleat House.  Then she could go for a trip on one of the boats which go along the river giving trips, to Chimp Island where there are lots of chimpanzees which come to the edge of the island to watch the boat.  Then she could drive through the lion reserve before she drove back to London.