Fiver Fest 2020
Following the success of last year, Fiver Fest is set to return to Frome's streets on 15th -17th October.  Part of the national Totally Locally campaign, Fiver Fest celebrates local businesses, often run by families or individuals, making a real contribution to our unique town.
2020 has been a hugely challenging year for retailers and spending just £5 a week in local shops can have a big impact on our high streets, boosting the local economy and increasing employment.
Fiver Fest also presents a great opportunity to step into a shop you've never been into before and discover what makes Frome's independents so special.
Take a look at what's on offer so far for Frome Fiver Fest 2020.
SEED, 3 Catherine Hill
Seeds Incense Range
These incense are made using plant based fragrances. Each box comes with 30 incense sticks and a little ceramic stand.
– One box is £5.00 for Fiver Feast (£5.95 usually)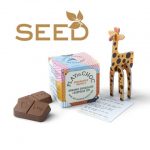 PLAYin Choc, Endangered Animal Box
These fun little boxes come with vegan, allergen free chocolates, an endangered animal toy to build and a fun fact info card on that animal.
– One box is £3.00 but for Fiver Fest we are offering 2 boxes for £5.00.
Jo Joof, Studio Shop 1, Black Swan Arts
My first crinkly newspaper, a fun new crinkly cloth book cleverly designed to look and feel like a real newspaper. Read all about it, every little one should have one. Buy one for £12 and get a second for £5.
At the River House, we are offering retail bags of our Loud Mouth coffee beans for a fiver.
Somerset rarebit served with jalapeno slaw for £5.
We have available high-quality washable entrance mats in a variety of colours & designs (70cm x 40cm in size) at £5 each.
Hunting Raven Books are offering three specially selected children's books, and a couple of fiction and non-fiction choices for adults too.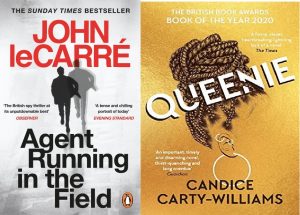 £5 for a curry, rice and dahl dish, with a free cup of Shotimaa tea.
We are offering 2 tote bags for £5.00 RRP £2.50 each
Junk in the trunk – £5.00 per item which consist or damaged clothes, hats and shoes that no one wants….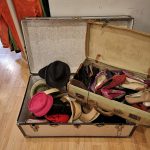 Don't just save all your pennies for 'fiver fest' as we have all year round bargains!
We are offering 18cm Moroccan tassels £5 for a pair.
Nook, 14 King Street
We are offering a superfood smoothie and bliss ball for £5.00.
Denude, 4 Bath Street
We have two items on offer: an amber pump bottle filled with Spiced Ginger washing up liquid which can be refilled in-store afterwards and also a tea basket with 30g of tea (choose from Assam, Rooibos, Green tea, Earl Grey, Nightcap, Peppermint or Chai).
Jam jar posies, these are usually £10 but £5 for the Fiver Fest.
Pretty posies of seasonal blooms, half price for one day only!
I'm offering my easy to read ebook for dog owners to help their dogs who may slowing down and not being as active due to ageing process, injury etc.  Usual price £16, but £5 for Fiver Fest.
Or £5 off your first physiotherapy treatment for your dog.
Flow Bar is offering our 23 Apples and Pears cocktail for £5 instead of the usual £9!
23 Apples and Pears –  Harvesting the flavours of the South West with an Autumnal blend of Mallets Cider, Melonade, Xante pear brandy and Zesty fresh lemon!
We would like offer £5 standard membership on Friday 16th, which will last for one year and save you £10 off our regular £15 membership. Call or visit us between 10.30am and 4pm to claim.
We are offering 3 new craft kits for fiver fest this year:
1 – Make a face covering
2 – Make a zipped purse
3 – Make a covered note book
These kits are designed and made in store at Millie Moon and will retail for £8 each after the fiver fest weekend . Each kits comes with everything needed and instructions, just add a needle or sewing machine. Great little gift ideas, secret santas and stocking fillers.
Mary Kilvert have two offers
Five cards for £5, usually £2.50 each.
Five sheets of gift wrap for £5, usually £2.50 each.
Whatever you can find in AbFab during The Fiver Fest 2020 that's labelled £5 will get a 50p discount at the till! Here's a few gems! We are only open on the Friday 16th and Saturday 17th October during The Fiver Fest!
Five pound puds! At the Fat Radish we will be serving all of our desserts for a fiver across the 3 days.
(Desserts available on the night may vary from the images)
The Golden Goose, 5 Palmer Street
Beautifully designed match boxes for £5 (normally £6)
Everyone girl needs a pair of these gorgeous Gipsy tights!  Large marl spot pattern available in these lovely autumnal colours – khaki, aubergine and spice. Available in one size.
Normally £7.95 but £5 for fiver fest!
A pair of handmade earrings from a huge selection, along with a handmade rawstring pouch made from recycled saris. Normally £6.25 for both.
We're offering a selection of gifts and home accessories.
Baabara and friends are very excited to find new homes during Fiver Fest. Each kit contains everything you need to make your own needle felted pal. Perfect as a gift or if you fancy giving needle felting a go yourself. Suitable for beginners.
Add instant vintage style with our Film Noir Berets. Choose from a range of colours. £5 (usually £6.50).
Postscript designed notebooks, buy 1 for £5 or if you buy 2 for £10 And you will get a 3rd one for free! 8 designs to choose from. Perfect gifts for Christmas – you can never have too many notebooks!
Baxter, 5 Cork Street
We will have several offers for a 'fiver', an incredible scented candle by our lovely candle partner Russell and White, some great winter bulbs, a special plant pot and of course lots of Christmas decorations… yes we know it's early but hey it's gotta be done!
Discover Frome Information Point, 2 Bridge Street
Discover Frome reusable water bottle for £5 (usually £8).
I'm offering any single session for a fiver (usually £6.50) when booked between the 15th – 17th October using the discount code FIV3RF3ST at checkout. www.mojomoves.co.uk/book-online
We have five offers for £5:
Uniball Signio Metallic Ink
Banksy girl (RRP £14.95) limited number
Derwent Graphik Line Painter 2 for £5 (RRP £3.50 each)
Derwent Graphik Line Marker 3 for £5 (RRP £1.99 each)
System 3 Acrylics 75ml RRP 2 for £5 (£5.25 each)
Lungi Babas, Loop de Loop (Cattle Market car park)
Lungi Babas are excited to be relaunching lunches at our al fresco venue Loop de Loop with an introductory price of £5 as part of Fiver Fest. We'll be serving a Stuffed Roti meal on Thursday, Aloo Bonda meal on Friday and JJ's Trinidad curry on Saturday.
Hamper Sandwich Shop, 3a Stony Street
We're offering our New Yorker sourdough sandwich for £5 (usually £6).
Light the Night lantern kits. One star and one pyramid kit for £5 or one large kit for £5.
They can be paid for in advance via the website and collected from the Share shop or bought in person from Discover Frome.
We have a whole book shelf for you to browse during Fiver Fest. From classic novels and poetry to children's stories and the arts.
Any main menu regular Keren's Comfort Kitchen meal for a fiver between 15 and  17 October – find us on Facebook!
Find the shops taking part in Fiver Fest 2020