Meet the recent arrivals @ The Station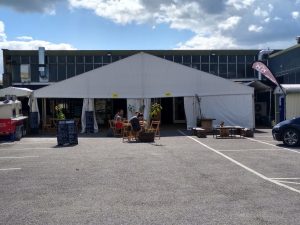 Whilst we've heard many stories of businesses struggling post-lockdown, there's a corner of Frome that's been thriving in recent months.
@ The Station is home to an eclectic little mix of businesses and offers a fantastic Friday night street food experience with wood fired pizzas, Indian thalis and fish tapas on the menu.
So who's @ The Station?
Having flourished at their Loop de Loop kitchen in the Cheese & Grain car park, Lungi Babas are thrilled to be able to open their second outlet, offering delicious authentic South Indian thalis. They currently open Wednesday-Saturday for their takeaway menu, available to pre-order from their website.
For those who have been longing for a fishmonger in Frome, now's your chance to celebrate. Hesperian offers fresh, sustainably caught fish straight from the South coast and Scotland from Tuesday to Saturday.
If cooking fish isn't your thing, Hesperian have taken inspiration from small cafes next to fish markets around the world to deliver light bites from their kitchen for lunch Tuesday – Friday and evening meals Thursday – Saturday, with their fresh fish tapas on Fridays.
A Frome favourite, the Rye Bakery's second outlet offers more than your average bakery, with locally sourced meat, dairy and organic veg complimenting their freshly baked breads and pastries. Open 9am-3pm Tuesday-Saturday and Friday nights from 5pm for their wood fired pizza.
If you feel the need to burn off some calories after treating yourself to the delicious food on offer at the station, Body Basics can help you keep on top of your fitness. They offer a variety of dance fitness and strength and conditioning classes many of which are currently taking place online, but with a few face to face sessions.
Sweet Bee are a wellness company producing a variety of organic products from an immune system boosting elixir and healing hot chocolate to sunscreen and lip balm. Sweet Bee produce their products in their unit at the station, but are currently only selling online at www.sweetbeeorganics.co.uk
Due to the popularity of the original milk station at Bullsbridge Farm, the Tytherington milk station has installed a vending machine at the station. Open daily, you can dispense the milk into a reusable 1 litre Tytherington milk station glass bottle (or you can bring your own clean container). The bottles are available to purchase at an adjacent machine and are then yours to keep and reuse.