Events Calendar Round-up: August 2022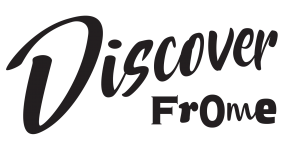 It's another busy month for events in Frome this August!  There are so many holiday activities to do with the kids, so we've put these into a separate post: Kids' Summer Holiday Activities 2022
Here's our round up of what else is happening this month.
And for even more events, have a look through our events calendar or pop in to the Discover Frome Information Point.
The Why Gallery present the beautiful work of Georgina Heywood-Smith who has become known for her signature black and white engraved artworks, all inspired by her surroundings across the south-west of England.
Join this fun and interactive session at Rodden Meadow for the last chance to take part in this year's Big Butterfly Count and learn how to support our own Frome Community Wildlife Mapping project. Feel free to bring a picnic to enjoy after.
St Aldhelm was a writer of riddles and a singer of songs as well as Abbot, Bishop and legendary founder of Frome. Follow in his footsteps on this walk that will show you the traces of our Saxon ancestors still visible in the modern town, as well as tell you the tales of the Wessex kings that lived, fought and died here.
Project Play brings yet another classic to the stage at the Merlin. Prepare for belly laughs as Hyacinth continues her attempts to prove her social superiority, and to gain standing with those she considers upper class!
Channelling all the feel-good vibes for the high summer edition of The Frome Independent, you'll find plenty to keep everyone happy with ice creams, deckchairs and good times galore! Have a rummage for vintage and preloved goodies in the Flea, stock up on exquisite plants, fresh and dried blooms and more in Homes & Gardens, grab a new outfit, jewellery and accessories in the Designer Maker section and then refuel from a choice of 20+ Street Food and Drink traders.
Don't forget to take home something delicious to keep you going all week from the wide range of Food Producers including Somerset Farmer's Markets. All this plus live music on the Market Place Stage and music and activities for the little ones at the Village Green.
Folksy Theatre return to Frome with their production of Shakespeare's much loved comedy Much Ado About Nothing. Come along and catch this wonderful open-air production, filled with colourful characters, audience interaction and live music! Remember your cushion and a brolly (just in case).
The legendary group come to Frome as part of their UK tour with a brand-new show performing all their classic hits from the last six decades. Take a trip down memory lane and enjoy classics such as 'Saturday Night At Movies', 'Up On The Roof', 'Under the Boardwalk' and many more.
It might be the summer holidays but we can't let the kids have all the fun!  Frome Roller Disco are hosting funky tunes for a smooth summertime roll, brought to you by London legend, Sydney. The temperature's up and the bar is stocked for a fun evening on eight wheels!
Morcheeba's global reach takes them to every corner of the world. Their signature chilled electronic/organic sound has been border-hopping ever since the London-based band emerged.  Their latest album, Blackest Blue is the band's 10th studio album, and delves into the soul of the band's genre-mashing musical heritage.
Vancouver's underground heroes, Apollo Ghosts, have been building a cult following since 2008. Known for their wildly energetic live shows and series of spectacular albums that celebrate the weekend fantasy of being in a band. As part of their first tour in the UK, don't miss their first show in Frome at the amazing new Tree House venue.
To see all the events coming up in August and beyond visit our What's On page.