Discover Frome talks to Truly Sopel, Frome fashionista
We talk to Truly Sopel, Frome fashionista about her shop on Catherine Hill and current collections.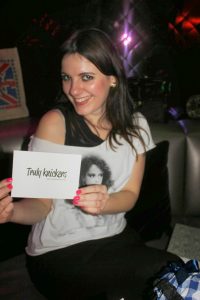 You had a shop on Catherine Hill a while ago and then left the hill, what ignited the spark in you to come back to Catherine Hill?
Since closing the doors at number 32 Catherine Hill in 2013 and then moving into the fashion collective Poot Emporium (which is also on Catherine Hill), my fashion range has grown extensively. Although I wasn't expecting to open another shop so soon, the premises on Stony Street became available and it's a fantastic space with plenty of room for me to showcase both my underwear range and ready-to-wear women's collection. Also, I have room for my workshop too. Perfect! I am from Frome originally and I've always been attracted to this unique part of town and meeting the people it charms, so to have a boutique here to sell my collection is fantastic.
Can you explain to us – what is granny chic?
Granny chic is at the heart of my label; it's wearing clothes that you might traditionally expect to see on your grandma but styled in such a way they look and feel contemporary. My collection of duster style coats, bobble knit cardigans and brushed cotton nighties (also known as winceyette) all have a touch of nana in them.
How do you come up with new ideas for a range?
I'm addicted to colour and pattern, so each season starts there. Colour combinations get worked into fabric prints and then into my designs- some of which I rework or resurrect from previous collections and others will be new for that season. I don't tend to look at trends –  but the world of fashion, film, music, travel and art are a constant source of ideas and inspiration to me. Most importantly my fashion icon Sindy Doll is forever at the forefront of all my ideas and collections.
If you could have dinner with one person from history, who would it be and why?
David Bowie. I live for fashion, fun and music, so I guess there wouldn't be too many awkward silences. He's easy on the eye too.
Your clothes are made in England – how important is that to you as a designer? 
Very, I currently use manufacturers in London and Leicester and of course I make a lot of my collections here in Frome on my Singer sewing machine. I think it's important to be able to let customers know what they are purchasing and where it came from. Using UK factories is easier for me travel wise, and they're generally happy to do small production runs which is perfect for a small business like mine. Despite there being less clothing manufacturers in Britain compared to what they used to be and that they are more expensive, if I can 'make it British' then I will. The quality is always great and if there are problems I can sort them out quickly by visiting and overseeing in person.
Have you ever made a Fashion Faux Pas? If so, what was it…
You will often see me wearing my slippers out and about. Apparently, it's not a good look but it sure feels good. I'm slightly slipper obsessed (it's the granny chic in me).
Where do you source your fabric for your knickers range from?
I use a lot of quilting cottons for my Truly Knickers range. Mostly I buy from Holland and the USA. There's also a fantastic supplier here in Somerset but exactly where it is, is a secret.
In 2010 you held a fashion show in Frome – have you got plans to host another to showcase your designs?
Fashion shows are great fun and are definitely the best way to showcase clothing. I would love to get involved in a fashion show next year, perhaps using the Catherine Hill cobbles as a catwalk….watch this space!
Would you encourage others to go into the fashion industry?
Yes, as it's exciting, forward thinking – yet in the moment. There's so much scope too, from styling and blogging, buying and merchandising to designing and production. It's a huge industry where creativity has no limits. I'm hoping to employ an apprentice next year and will encourage them all the way.
What's your favourite thing about Frome?
I like looking at the buildings and at shop windows – there's some really creative window dressing going on here in Frome. Also, some pretty snappy dressers…I'm constantly inspired by the people here and the energy they bring.