Poetry on the Millennium Green
We are lucky in having such an abundance of green spaces in Frome. One of those, only a stone's throw from the town centre and adjacent to Rodden Meadow, is the Millennium Green.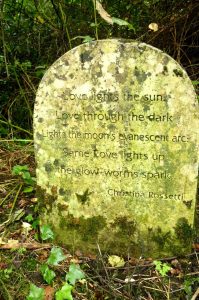 Originally part of the grounds of North Hill House, it came into existence as part of the many Millennium Green projects initiated throughout the country to mark the millennium in 2000. It's now managed by the Town Council and volunteers – most recently a group from Critchill School – as a semi-wild area with plantings of native species and is abundant in wildflowers, birds, butterflies and moths. Initially volunteers planted trees and an orchard and local artists and craftspeople were commissioned to make works for the green including a sculpture seats, and poetry stones.
The poetry stones were put in as a reminder of two poets with connections to Frome and the surrounding area. Take a seat and read the excerpt from 'South Wind' by Siegfried Sassoon who is buried at Mells and 'What Good Shall My Life Do Me' by Christina Rossetti who lived in Frome between March 1853 and April 1854. Sassoon is most well-known for his First World War poetry and Rossetti as the pre-Raphaelite poet who penned the words to the hymn 'In the Bleak Midwinter' and the epic poem 'Goblin Market.'
Christina's home in Frome is just a short walk from the Millennium Green on Brunswick Place in Fromefield, and is marked thanks to a plaque by the Frome Society for Local Study. Christina helped her mother run a school at the premises but missed the rest of her beloved family (including her brother the painter Dante Gabriel Rossetti) and the cosmopolitan life of London. And although her letters to her family show that her time spent in Frome was not her happiest, it is obvious that her garden in Fromefield and the local countryside did bring her great pleasure, "an abundance of green slopes and gentle declivities: no boldness or grandeur but plenty of peaceful beauty."
Sitting on the south facing slope of the Millennium Green nearly 160 years later Christina Rossetti might find it hard to believe she wasn't in the countryside, but the centre of Frome. The excerpts from both her and Sassoon's poems can be enjoyed amidst birdsong and trees laden with apples and sloes.
Love lights the sun: love through the dark

Lights the moon's evanescent arc:

Same Love lights up the glow-worms spark:

From 'What good shall my Life Do me?'

by Christina Rossetti
Where have you been South Wind, this May-day morning,

With larks aloft, or skimming with the swallow,

Or with blackbirds in a green, sun glinted thicket?

From 'South Wind'

by Siegfried Sassoon.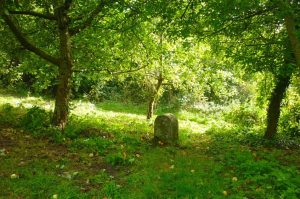 A leaflet to Frome Millennium Green is available from the Tourist Information point in Frome Library. Access on foot is via the public footpath that that runs from the town centre along Willow Vale to Wallbridge. It is also wheelchair accessible from North Parade car park.  For further reading on Christina Rossetti, the Frome Society for Local Study Year Book (Volume 19) has an article by Keith Falconer,' The Forlorn Hope: The Rossetti Family in Frome.' Available from the Hunting Raven Bookshop, Frome Museum, and through the FSLS website www.fsls.org.uk
Published 29/09/2016
Written by Sue Bucklow, Freelance Curator. Images provided by Sue Bucklow.