We talk to organisers of Frome's Famous Chocolate festival
With Frome's annual Chocolate Festival on the horizon, we talk to Jo Harrington, from Lip Smacking Festivals – a company specialising in gourmet food events, to find out a bit more about the South West chocolate scene – and the weirdest chocolate combinations out there.
What inspired you to organise the first ever Chocolate festival all those years ago?
We wanted to do an all-inclusive event that appealed to everyone – and of course we love chocolate.
Does the South West boast a lot of chocolatiers?
There's an amazing wealth of chocolatiers in the South West, every year we discover new companies. The growth rate has been incredible and there's many more now than seven years ago when we held our first event.
There has recently been a trend of combining various herbs and spices with chocolate, in your opinion, does everything go with chocolate or is there one ingredient you just wouldn't put with it?
Fish – I've tried several recipes but it just doesn't work.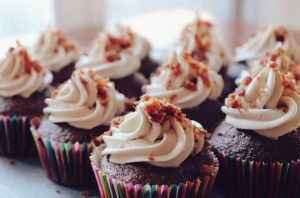 What's the weirdest chocolate product you've ever come across?
I've eaten some really weird chocolate combinations that shouldn't work but do, such as white chocolate and cucumber in a macaron, or strawberry and balsamic truffles. I personally don't like chocolate and blue cheese truffles but I know people who love them.
What's your day-job when you're not putting on the chocolate festival?
I recently joined the team at A Little Piece & Love, a fantastically ethical and organic chocolate company in Bath, we even harvest rainwater. We make fun confectionery with very adult flavours, it's contemporary yet nostalgic plus we have the only license to make Dr Who chocolate which definitely reflects our geekyness! One of my first jobs was to make a chocolate cyberman. I also specialise in gluten-free catering and work with the fabulous team up at Cooper Hall and at the Merlin film club.
What would say are the five key elements for running a successful event?
Choose a great venue like the Cheese & Grain
Have a good idea with a wide market appeal
Look after your stall holders and staff, if they don't have a good day they won't be happy smiley people for the customers or want to come back.
Engage with the local community. We have always supported local charities and groups and have raised quite a lot for them over the years. Our current ones are Fromes Children's Festival, We Hear You (WHY) and Fairtrade Frome.
Do lots of marketing; direct, indirect and targeted.
Have fun! Oops that's 6
Tell us why we should all be buying Fairtrade cocoa products…
Fairtrade is something I strongly believe in, it ensures workers are fairly treated and paid. The Fairtrade organisation provides health care, roads/transport and education in impoverished countries; driving up standards. In recent years' companies have become more conscious and are doing direct and ethical trading, or setting up schemes directly with the growers. I think if you can support local then do that first, but if you are buying a product from overseas such as cocoa then try to find Fairtrade, direct traded or ethically sourced.
What's your favourite quote?
My favourite quote is 'those who don't believe in magic will never find it'. It's from Charlie and the Chocolate Factory and fittingly celebrates Roald Dahls centenary.
What type of wine goes best with chocolate?
Lots of people will tell you wine doesn't go with chocolate. I just think you are eating the wrong chocolate or drinking the wrong wine. Good robust reds, Madeira and port pair well with dark chocolate, 70% cocoa solid minimum. For milk chocolate use high cocoa solid around 35-40% and sweet dessert wines, Muscat or Rieslings. White chocolate is trickier as its a higher fat so needs something that compliments it, a Chablis or Chardonnay (not oaked) can work. But think beyond wine, a dark chocolatey stout or spirit would work, my favourite is really good aged tequila with a slice of orange covered in dark chocolate shavings. The best thing to do is experiment and see what you like.
What's do you like best about Frome?
Frome is great for its independent spirit, the markets, owner run businesses, music scene and motivated creative people. However, my favourite thing is walking my dog along the river at Vallis Vale and gathering wild garlic in spring.
The 2016 Chocolate Festival will be held on 20 November at the Cheese & Grain, 10am-4pm.