Frome Festive Countdown – Ginger biscuits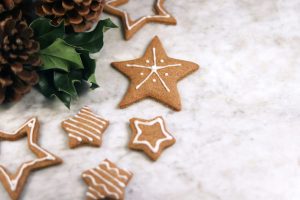 It doesn't matter if you're master chef extraordinaire or a basic baker, this is for everyone. You can get as complex as you like or keep it nice and simple. We've got all you need to know below:
Ginger biscuits 
You'll need:
(Makes about 25 biscuits)
350g plain flour
2 teaspoons ground ginger
1 teaspoon bicarbonate of soda
100g butter, cut into chunks
175g light soft brown sugar
1 medium egg
4 tablespoons of golden syrup
biscuit cutters
2 greased baking trays
And you might also want: icing, sweets or sprinkles for decorating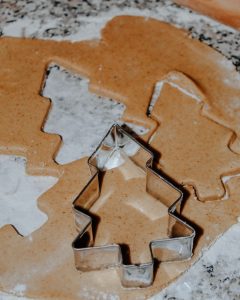 Method
Heat your oven to 190 C, 375 F, gas mark 5
Sift the flour, ginger and bicarbonate of soda into a large bowl. Stir in the chunks of butter until they are coated in flour
Rub the butter into the flour, until the mixture looks like fine breadcrumbs. Then, stir in the sugar
Break the egg into a small bowl, add the syrup and stir well with a fork.
Next stir the egg and syrup mixture into the flour mixture using a wooden spoon. Mix everything well to form a dough.
On a surface lightly dusted with flour, use your hands to push the dough away from you and fold it in half. Repeat until dough is smooth.
Sprinkle more flour onto the surface, then roll out the dough until it is 5mm (1/4 inch)thick. Now use your cutter to cut our your preferred shapes.
Lift the cut out shapes onto the greased baking trays allowing spaces for them to spread. Re-roll any off-cuts and repeat.
Bake the biscuits for 12-15 minutes, then remove from the oven and leave for 5 minutes. Then place on a wire rack and leave to cool.
 Time to get creative with your icing and decorations!
And now you have a batch of festive treats to gift to family or share with neighbours working from home for a co-working cuppa.  Make sure you keep a few for yourself as a perfect companion for a relaxing evening!
What will be next on Frome's Festive Countdown?