Frome Festive Countdown – Christmas wrapping paper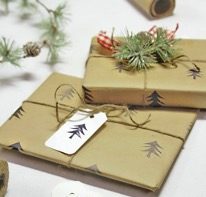 This Christmas why not add that extra personal touch and make your own wrapping paper? Getting crafty will save you money and (unlike lots of the glittery shiny gift wrap) ensure that your waste can be recycled afterwards. It's also a great activity to involve the whole family.
We've done the hard work for you and found some of the best tried and tested methods to make your gifts look as festive as possible.
Make your own Christmas wrapping paper or cards
The first thing to do is make yourself a stamp. Our favourite method is to use a simple potato but an old mouse mat, eraser or a dishwashing sponge could also be repurposed. Make sure to take care with cutting tools, and if you have young children we'd recommend adults making the stamps prior to the activity.
You'll need:
Potatoes or sponge etc.
Tea towel to dry
Biscuit cutter (for the shape) and/or knife
Fork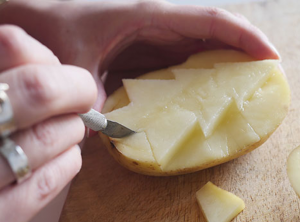 Method
Halve a potato lengthways to make a long stamp, or across the middle for a smaller stamp. Pat the cut ends dry with a tea towel.
Press your chosen biscuit cutter shape into the cut end of one of the potato halves – it doesn't need to go all the way in, it's just to create an outline of the shape that you can follow. Carefully use the knife to cut into the potato and around the cutter  to create a stamp.
Remove the cutter from the potato. Stick a fork in the back to create a handle. Your stamp is now ready to use.
Biscuit cutters are handy for making potato stamps, but not essential. You can use a knife to cut any shape you wish into the potato.
What shapes shout Christmas? Holly, bells, Xmas trees, candy cane, snowflakes, penguins?  Think about how difficult it might be to make the stamp, intricate patterns are hard to cut and simple bold shapes are definitely easier for the kids.
If you want to recycle your paper afterwards you can use an ink pad (unfortunately paper that has been painted on can't be recycled). If you want to compost your paper afterwards, find out how you can make your own natural paint.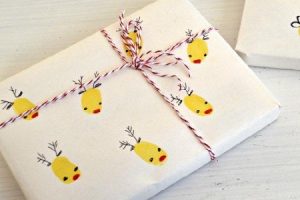 Stamps can be pressed direct onto ink pads, paints can either be put in shallow pots and have the stamps dipped in them or the paint can be brushed onto the stamp design directly. You can always add to your stamped shape with some hand drawn extras.
If you want to make lots and lots of wrapping paper then you might need to upscale your stamp and use a rolling pin press. You can find instructions on DIY printmaking with rolling pins here.
When it comes to wrapping, sellotape is a big recycling no-no as it can't be recycled. If you have washi tape or recyclable paper tape then great, but we think reusing twine or old ribbon are a great way of sealing your gifts.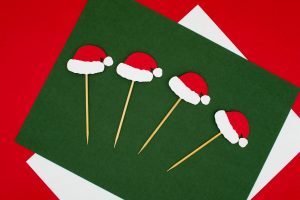 Reuse, repurpose, recycle! You could repurpose last year's Christmas cards to make decorations or gift tags. And for even more fantastic innovative ways to use old Christmas cards, from jigsaws to wreaths check out theses crafts.
Maybe forage for some festive fauna to decorate your gifts? A pine cone or some holly, cinnamon sticks or dried oranges make delightful additions to the look of a gift and can be composted afterwards.
If you don't have the time to make wrapping paper, consider using something that's already colourful or has an interesting pattern. Scarves and fabric are a great way of wrapping gifts, just tie knots or pin with brooches.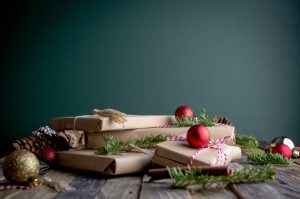 Consider repurposing paper that you might already have lying about the house: Maps, newspaper, magazine pages, wallpaper or sheet music all look fantastic as gift wrap and can add a personal touch for the traveller or musician in your life.
Now you've got the wrapping sorted time pop over to our online markets to find the perfect gift for your loved ones. And don't forget to send us photos of your creations share them using  #FromeFestiveCountdown.