Frome Festive Countdown – Christmas Chutney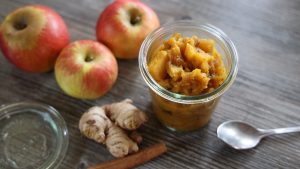 Spice up your Christmas feast with this homemade spiced apple chutney or mincemeat recipe. The chutney is great for Christmas cheese and crackers and the mincemeat can be made ahead of time for your mince pies (that comes later!). Recipes below…
Christmas spiced apple chutney

You'll need
(Serves 6)
850gms cooking apples, peeled, core & cut to cubes
2 tsp cumin seeds
2 tsp fennel seeds
2 tbsp vegetable oil
1 medium onion thinly sliced
3 tsp grated ginger
1 tsp kashmiri chilli powder (or a mild chilli powder)
190gms soft brown sugar
4 tbsp malt vinegar
Pinch of salt
Method
In a small frying pan add the cumin & fennel seeds and dry roast on a low heat for 3-4 minutes. The seeds will start to release their aroma. Make sure to stir every few minutes. Turn the heat off & cool the mix. Grind to a coarse powder in a pestle and mortar and set aside.
Heat oil in a heavy bottomed sauce pan on medium heat. Add the coarsely ground cumin and fennel seeds and sizzle for a minute. Add the sliced onion and fry for 5-7 mins until they begin to soften and change colour. At this stage add the ginger, chilli powder, sugar, vinegar, chopped apple and salt. Mix well and stir making sure all the spices coat the apple. Simmer the mix over a low heat for an hour making sure to stir half way through. The chutney will thicken, go syrupy and caramelize.
Cool completely and tip in sterilised jars. Seal and store. Once opened, refrigerate and use within 2 weeks.
If you'd prefer to make mincemeat for your mince pies we've got the perfect recipe for that too:
Two-step mincemeat

Ingredients
(makes 1.25kg)
110g sultanas
170g raisins
170g currants
170g grated Bramley apples
110g suet
200g soft brown sugar
100g finely chopped mixed peel
65g blanched and chopped almonds
½ tbsp mixed spice
Zest and juice of 1 orange
Large splash of brandy
Method