Frome Lions lighting up Christmas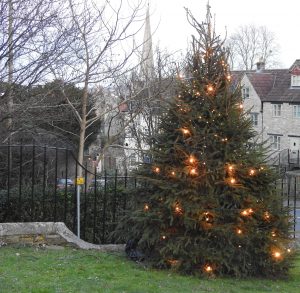 We all know that Christmas is going to be just a little bit different this year, but there are some familiar Christmas traditions that we can still look forward to, thanks to the Frome Lions Club and Rotary Club.
Once again the Tree of Remembrance will stand in front of Rook Lane Chapel, to help you remember your departed loved ones or memorable causes.
The Lions' chosen charity this year is Fair Frome, supporting it in its distribution of food parcels to those families impacted by the pandemic. There are many families in the Frome area that are suffering with greatly reduced incomes during this crisis and it is the Lions Club of Frome's hope that your donation(s) will ease their worries over the forthcoming festive season.  To make a donation, please visit the Lions Club website.
Sadly, due to current restrictions the traditional carol service at Rook Lane Chapel will not be able to take place, but the Lions are hoping to record a short Service of Dedication when the tree will be blessed. A video of the blessing will be available on the Lions Club website.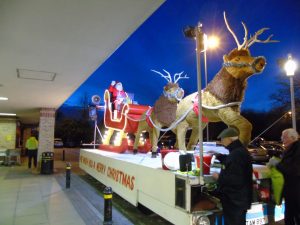 And what Christmas would be complete without a drive-by from Santa's float?! From the 4th – 22nd December Santa will be travelling around the town and surrounding villages, checking he's got you all on his list and his address book is up to date!
Santa won't be able to collect letters from girls and boys this year, but his clever little IT elves have set up an email address santa@fromelions.org.uk for you to send your lists to.
There'll also be no knocking on doors and the Lions and Rotary Club volunteers won't be able to accept donations on the night. Instead a text giving option is available – simply text santafrome followed by the amount you wish to give to 70085.  In addition, a Just Giving page has been set up and if you would like to donate cash, then the Rotary Club will be running a pop up shop in the town during December, where collecting buckets will be available.
More information, including Santa's float route can be found on the Lions Club website.