Sunday Christmas Shopping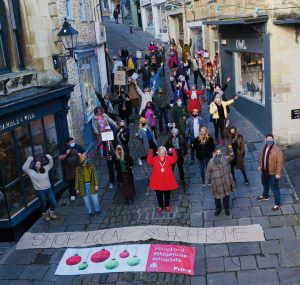 Traders gathered together this week (in a socially distanced way) to show how excited they were to be back at their shops. They want to remind shoppers to come into town for their festive gifts.  And to make up time many are opening for more hours and are opening on Sundays for shopping on the run up to Christmas.
Charles Prior from Baxter who coordinated the image of the traders said: "We have a wonderful array of independent shops in Frome and have, like everyone, had a really turbulent year and really need our support as we head into Christmas and beyond. The stark reality is, if we don't support the independents now, we may not see them trading next year, so I implore you all to shop local and get behind our brilliant traders".
Charles is also leading the way as traders are opening Sundays to try and make up for lost time.  Not normally open on a Sunday he will be joined by an array of other shops including Shop Next Door, Postscript, The Frome Bookshop, SEED, Little Bear's Wardrobe, Christine Oswin, Bon Bon Chic, Golden Goose, Winston, James, Woof, Raves from the Grave, Kobi & Teal, Pop! both Rye Bakeries, Ellenbray, Johnny Szymanski, the Dandy Lion, Nomad, Assembly, the Why Gallery, Choc et al, and Black Swan Arts as well as those that would ordinarily be open.
The Mayor of Frome, Anita Collier also backed the traders:  "Our shopkeepers are relying on us more than ever this year to support them once they open up again, and I hope we can all keep shopping locally to keep our shops afloat! There are some wonderful and often unique Christmas gifts to be found in the town, so please enjoy your browsing, but do so safely."
So come on let's get Christmas wrapped up in Frome #shoplocal #shopfrome #shopsafe