Business as unusual – Postscript
Garry Yoxall from Postscript on Stony Street told us how they'd been coping with the restrictions.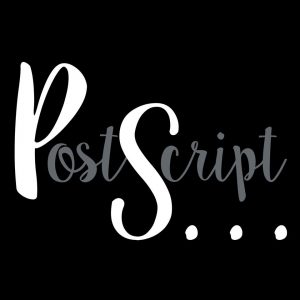 How did your business operate before the lockdown?
Postscript is a high street stationery shop with a range including arts and crafts and a significant print and design offer.
Four full-time and three part-time staff provided a six day per week offer. Two thirds of our income was derived from walk-in shop sales, a third from design and print and other projects.
What are the main changes you've made since the lockdown and what challenges have you faced?
Our web site is still under development to enable us to call ourselves an "online" retailer, however we are using the web and social media to advertise our continued services. The doors are closed but we receive numerous telephone and email orders daily. We offer video shopping through WhatsApp and free local deliveries. We are acutely aware of the needs of home workers, and customers in lock-down, children and parents in particular. We are therefore offering 50% off educational and charity print.
What has been the response from your customers?
We have been superbly supported and receive positive, inspiring and motivating feedback on a daily basis. Customers appreciate the service we are trying to continue to deliver and home delivery and educational print in particular.
If/when things return to 'normal' will you continue with any of the changes/services you've made/introduced?
We will continue to develop our website and offer delivery and click-and-collect services plus postal delivery. We are adapting in the interim to offer PPE commercial supplies to retail and business customers who should be thinking about the gradual easing of lock-down and new ways of operating to ensure staff and customer safety and confidence. Our offer will launch shortly and will feature fully accredited PPE equipment sourced in partnership with a 27 year experienced independent PPE company.
Do you think this experience will have a long-term effect on the direction/focus of your business?
Yes. Much of what we have done we had planned to do. I believe the customer journey to understanding and supporting local businesses, which was already improving, will have leapt forward. The improvement in small independents' use of the convenience of online, coupled with higher service levels and closer customer relationships will definitely significantly enhance part of our future planning.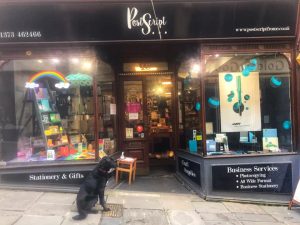 What have been the positives to come from your recent business experiences?
We have always supported charitable causes and continue to do so. There are so many instances of community organisations combatting the challenging environment to adapt and ensure their dependent individuals are not forgotten. Alzheimer, cancer, COPD and many more organisations have persevered and worked with us to produce literature and to keep in touch with their dependents.
The retail community group has also been exceptionally supportive of each other. Giving practical advice, and moral support during this challenging time.
We are working with The Good Heart and Fair Frome on initiatives to celebrate and record the human experiences of COVD-19.
Postscript is taking orders via email, telephone and virtual shopping for home delivery. Visit their website for more details.