Business as unusual – Dead Head Flower Farm
We spoke to new business owners Lucy Marshall and Jen May from Dead Head Flower Farm…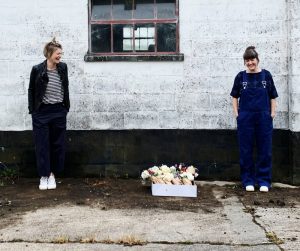 How did your business operate before the lockdown?
Our flower farm began in October of last year, when we started to dig the beds ready for planting spring bulbs. This was to be our first full season, so before lockdown we were just in the planning stages, as well as sowing seeds ready for spring and summer crops. We were building our brand on Instagram, and letting people know what to expect but the real launch was due to happen in March of this year.
What are the main changes you've made since the lockdown and what challenges have you faced?
We have changed our sales model entirely. We were hoping to sell wholesale to florists, and then use the local markets to sell directly to customers and supply buckets of flowers for DIY weddings.
Our first email re: stock availability went out the week before lockdown and so there were suddenly no florists to sell to! We took a few weeks to think and regroup and then decided to try some contactless local deliveries in and around Frome, of our seasonal blooms.
This has gone really well but we have had to quickly set up our online retail, understand packaging, quantities, workflow….all new in this area for us.
As we are a team of two, the biggest challenge has been navigating a new business, in these circumstances, but being completely physically separate from each other. We have a Monday phone call to set ourselves up for the week ahead and this is when we make any bigger business decisions, and then we just try and do our planning on shared documents. We have naturally divided tasks between us to share the load and keep things safe, following guidelines. We really miss doing this together though!
What has been the response from your customers?
Amazing! We didn't have an existing customer base, so this is all completely new for us and the response to our company has been incredible and that has followed through with customers ordering from us. Everyone has been incredibly supportive and grateful for beautiful flowers either for themselves or as a gift for a loved one.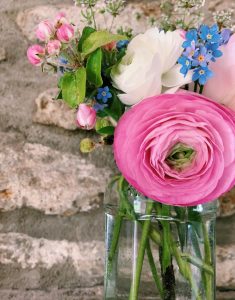 If/when things return to 'normal' will you continue with any of the changes/new services you've made or introduced?
Yes, I think we would love to keep our online sales direct to customers. It's gone really well and the reactions make us feel super happy!
Do you think this experience will have a long-term effect on the direction/focus of your business?
We feel weirdly fortunate in that, although we have missed out on the launch we had planned, we also haven't had a huge drop in sales. This year was a learning curve for us, as our first season in growing flowers. It's been a very steep learning curve and very different to the first year we expected but the key thing is that we have been agile and able to adapt very swiftly. We will see where this takes the business and go with that flow.
Do you have any plans to officially launch your business when restrictions are lifted?  
We would love to do markets and see people, have chats, interact more – we can't wait for that! Once the government says it's safe for florists to reopen, we would love to supply them, as well as supplying buckets of flowers for brides to do their own wedding flowers once mass gatherings become ok again.
What positive community stories has your business experienced?
One of our lovely customers ordered a jam jar posy for everyone in her book club, which we thought was very sweet and a lovely thing to be a part of.
Seasonal blooms can be purchased via Dead Head Flower Farm's website, for local delivery.