MOJO Moves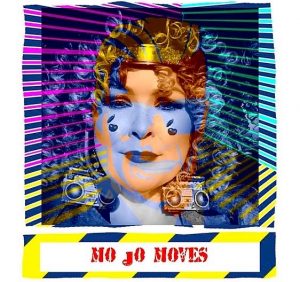 RECLAIM YOUR MOJO BACK FROM THE CORONAVIRUS!
Online classes through the week – for dates and times visit the Mojo Moves website.
Providing welcome relief from boredom, anxiety, inactivity, social isolation and negativity. Live in the moment and lose yourself in the superb playlists and memorable moves with your feisty and charismatic host Cheryl Sprinkler.
4 pay classes a week (book and pay online at www.mojomoves.co.uk to receive your invitation – classes are hosted on www.zoom.us – download the app to your tablet or PC).
MOJO MOVES ™️ is a feelgood workout which combines comedy with proper dance aerobics.
Yes, you heard that right, comedy.
The classes are hosted by Rare Species theatre company and are led by larger-than-life character Cheryl Sprinkler complete with neon leotard, legwarmers, perm and oversized specs.
The self proclaimed "Queen of literal dance" draws her  "dancespiration" from ballet to break dance and will have you busting 80s moves like "The Robot" &
"The Sprinkler" to an eclectic mix of tunes from the 60s to the noughties.
Gone is the repetitive 130 bpm standard fitness class playlist and in its place carefully curated songs to enhance the feelgood mood.
Throw in some TV theme tunes for nostalgia, yogic breathing for balance and positive affirmation lyrics for mental strength and confidence and you have simply the best group exercise class ever.