Gong Bath & Soundscape with Helen Stillwell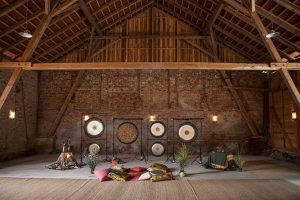 Join Helen Stillwell for an hour's sound journey.
Immerse yourself with the gongs, crystal and Himalayan bowls, percussion and drum to deeply relax you, taking you on a meditative and soothing experience.
Relax and unwind in this hour of sonic soothing sounds. Releasing tensions and stresses. Leave feeling refreshed and rejuvenated.
Take a yoga mat to lay on and a pillow and blankets to wrap yourself in for your comfort. A bottle of water too.
Held at Mells Tithe Barn (BA11 3PN) on Tuesday evenings and The Lighthouse, Tytherington (BA11 5BW) on Wednesday mornings.
Tuesday at Mells Tithe Barn:
7.30pm – 8.30pm (doors open at 7.15pm)
25th May 2021
29th June
27th July
7th September
19th October
16th November
7th December 2021
Wednesday at The Lighthouse, Tytherington:
10.15 am to 11.30 am (doors open at 10am)
19th May 2021
7th July 2021
15th September 2021
27th October 2021
24th November 2021
Prior Booking essential please phone or text Helen Stillwell on 07817 211907 or visit her website to find out more.