Hoop Dance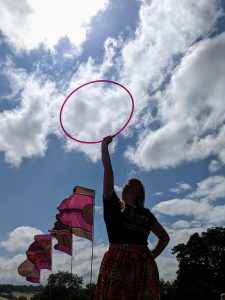 Hoop dance is a beautiful fusion of dance, play and circus skills. It can take many forms – a way to keep fit, a movement meditation, choreographed dance, creative self-expression, with LED's or fire hoop dance becomes a stunning glow show.
Hooping can be : meditative, energising, playful, calming and fun.
It's individual. A fun, healthy, all-round happy-making activity for people of all ages and stages.
Courses
Six Week Beginner Course
HULA HOOP FUNdamentals
Come and join this fun, challenging and rewarding hula hoop dance course.  Focusing on a different part of the body each week, classes are gently guided and there's time for individual questions and development. It's body-positive, low impact, feel-good fitness. You'll use muscles you didn't know you had and give your brain a good workout.
Thursday 16th September – 21st October, 7.30pm-8.15pm at RISE – Whittox Lane, Frome, BA11 3BY
Improvers – Progress & Flow Course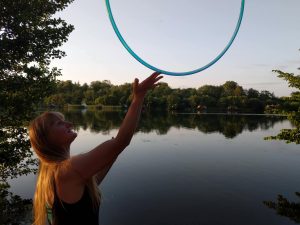 Over the course of 7 weeks you'll learn some swizzy hoop tricks including lifts, balances and isolations, barrel rolls, angles and rolls. Plus start to get to grips with integrating these into your dance.
Suitable for those who have either done some hooping with Emilie in the past or have otherwise got a good grasp of the fundamentals of on and off-body hooping. Get in touch if you're not sure if this is you or not!
It's fine if you're a bit rusty post-lockdown. You'll be guided through the moves and you can take it all at your own pace.
Thursday 9th September – 21st October, 8.30pm-9.30pm at RISE – Whittox Lane, Frome, BA11 3BY
For prices, more information and to book visit The Joy of Hooping website.
Hoop Dance
RISE, Whittox Lane, Frome, BA11 3BY