The Old Bath Arms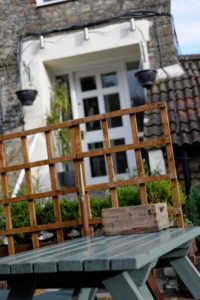 Enjoy fine dining at The Old Bath Arms – serving home made food from the finest fresh ingredients. Food is served in the comfort of our restaurant or you can eat in the bar as well as dine alfresco on our outside deck. With comfortable en-suite rooms you can enjoy also a stay overnight.
The Old Bath Arms is part of the You're Welcome scheme.  This means that you are welcome to use their loos and refill your water bottle at this venue without needing to buy further offerings…
This is one of the original Frome pubs, present on the 1774 map. It has changed names several times over the years, having been known at various points as the Lord's Arms, the Marquis of Bath's Arms, Lord Weymouth's Arms and the Bath Arms. It ran as a pub for most of its lifetime, but closed in 1959, and may have served as a gift shop and a restaurant, before being transformed into its current state as one of the most popular pubs in town.
For more information on the history of the pub, see The Historic Inns of Frome.
The Old Bath Arms
1 Palmer Street, Frome. BA11 1DS